In case you find yourself in need of a spontaneous day or night out, we've produced a list of 12 wonderful waterfront restaurants in South Florida where you're able to dock your boat and eat. Whether you're making a day of it on the water or you just want to stop for a relaxed lunch or dinner at an enchanting dockside restaurant, this list will come in handy.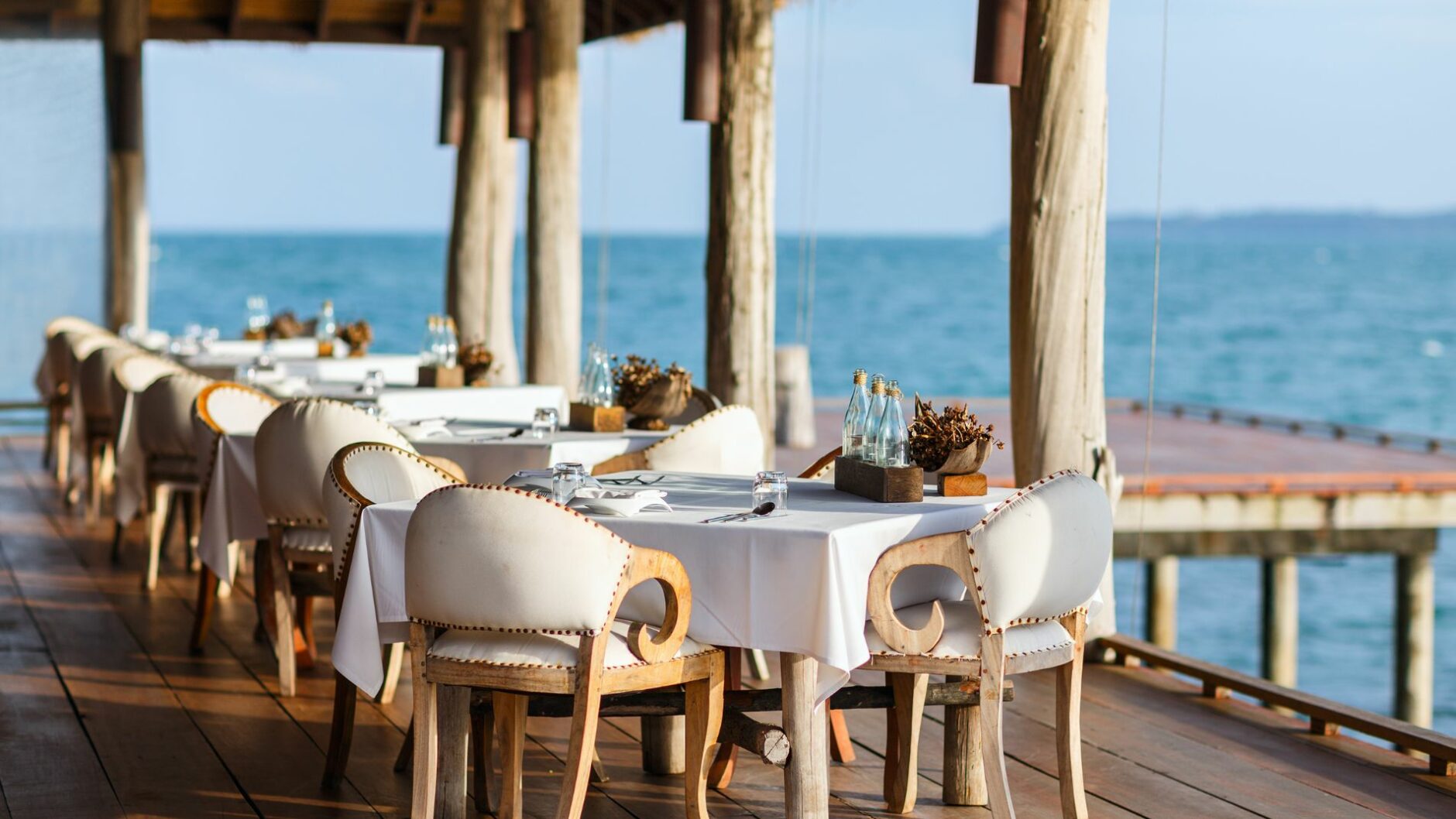 1. Boatyard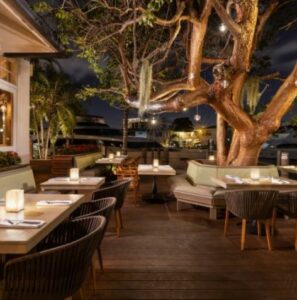 1555 SE 17th St., Fort Lauderdale, FL 33316
Simply stated, this dining location's name says everything. Boatyard has surpassed its competitors thanks to its unrivaled blend of casual cool and refined elegance. The venue serves up wood-fired steaks, a raw bar, a fresh daily catch, and a range of grilled seafood dishes, all of which make use of what local fishermen reel in. People of all ages patronize this posh restaurant and bar because of its delicious seafood and steak, exciting atmosphere, and delightful view of boats in the harbor.
2. Coconuts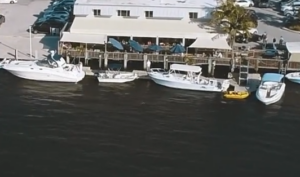 429 Seabreeze Blvd., Fort Lauderdale, FL 33316
Coconuts is a fun, lively bar, and the fact that it welcomes dogs only adds to its appeal. The ambiance is easygoing and laid-back, contributing to a relaxed mood. Jambalaya, coconut shrimp platters, fish tacos, BBQ ribs, New York strip steaks, and chicken are just a few of the dishes that can be found on the menu. If you can't make it here for dinner, you're welcome to join diners for breakfast on Sunday morning before getting out on the water.
3. Shooters Waterfront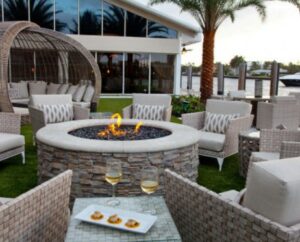 3033 NE 32nd Avenue, Fort Lauderdale, FL 33308
The ability to dock for free is always appreciated by boaters. Shooters Waterfront is a popular spot in South Florida, known for its riverside seating and weekly live music. The eatery serves both lunch and dinner, as well as breakfast. Shooters' menu has a wide variety of tempting choices, including sushi rolls, veggie burgers, Cuban sandwiches, salads, lemon rosemary roasted chicken, and a fresh catch of the day. Keep in mind that every weekday from 4 p.m. to 7 p.m., it's happy hour.
4. Deck 84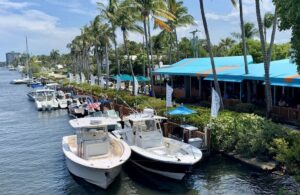 840 East Atlantic Avenue, Delray Beach, FL 33483
Don't miss out on this magnificent view of the Intracoastal Waterway. Deck 84 has a relaxed atmosphere and tasty, straightforward food, with a Taco Tuesday special to boot. They'll also happily offer to cook your fresh catch for you.
5. GG's Waterfront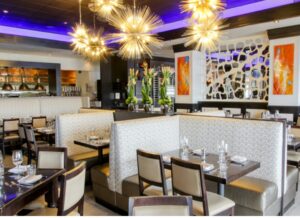 606 N. Ocean Drive, Hollywood, FL 33091
Another great place to dine at a reasonable price near the water is GG's Waterfront. While enjoying a meal of dayboat fish, fresh seafood, lobster, stone crabs, steak, or raw bar delights, you can watch the sun slowly set over the ocean. You'll find a wide selection of seasonal dishes available on the menu. GG's is posh, without being pretentious. The restaurant is proud of its extensive award-winning wine selection, featuring more than 125 wines and champagnes.
6. Casablanca on the Bay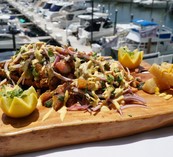 1717 N. Bayshore Drive, Miami, Florida 33132
Situated right in the middle of Miami's exciting arts and entertainment district, this airy venue on the second floor of the DoubleTree Hotel has something for everyone. Casablanca on the Bay offers great seafood, spaghetti, flatbreads, steak, and raw bar options, and the views of Biscayne Bay are breathtaking. You can dine for lunch, dinner, or Sunday brunch. The marina welcomes boats up to 110 feet in length and provides full fuel service.
7. Bokampers Sports Bar and Grill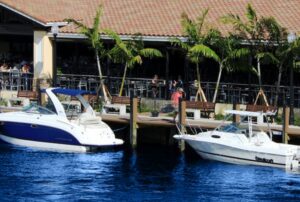 3115 NE 32nd Ave, Fort Lauderdale, FL 33308
Bokampers is a great option for anyone seeking a dock and dine restaurant that also has a wide selection of HD flatscreen TVs for viewing a variety of sporting events. On the menu, you'll find plenty of items suitable for vegetarians, vegans, and those avoiding gluten. Bokampers is not only a great location to eat on the water, but it's also one of the best places to enjoy South Florida's most stunning sunsets.
8. Kaluz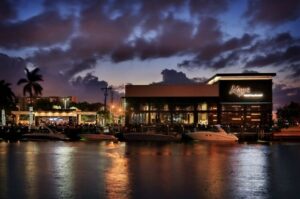 3300 E. Commercial Blvd, Fort Lauderdale, FL 33308
If you're looking for classy restaurants accessible by boat in Fort Lauderdale, look no further than Kaluz. Some examples of its more extravagant offerings are ahi tuna steak, shrimp cargot, cedar plank salmon, and key lime crab salad. After you've docked and eaten, don't forget to leave a tip for the dock workers!
9. 15th Street Fisheries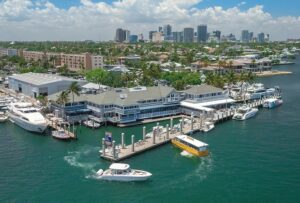 1900 SE 15th Street, Fort Lauderdale, FL 33316
Enjoy the live music and stunning views at 15th Street Fisheries. This restaurant is perfect for refueling both your boat and your stomach, with its seafood-inspired menu, which includes mahi tacos, lobster rolls, and clam chowder. This location is great for families, since it includes feeding the huge silver tarpons every day — a big attraction for kids of all ages.
10. The Pirate Republic Seafood and Grill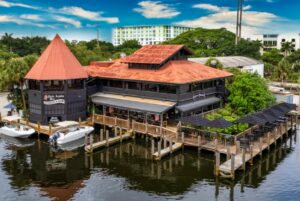 400 SW Avenue, Fort Lauderdale, FL 33315
The Pirate Republic Seafood and Grill may be lower on this list, but that doesn't make it any less significant. This pirate-themed eatery is a one-of-a-kind dining experience that's sure to please both young children and their parents looking for something different to do on a family outing. Before traveling back out to sea, you can spend the day in a different world by relaxing on the dock and enjoying lunch. Due to the popularity of the restaurant and the high volume of customers during peak hours, making a reservation in advance is recommended.
11. The Rusty Pelican
3201 Rickenbacker Causeway, Key Biscayne, FL 33149
You can kick things up a notch at The Rusty Pelican, a timeless establishment that's home to both a Michelin-starred chef and one of Florida's hippest mixologists. The Pelican is a popular spot for boaters to draw up to at any time of day, since it offers high-end riverfront dining, along with a breathtaking view of Biscayne Bay on the way to Key Biscayne.
While gazing at the city lights around the waterfront and listening to sweet music, enjoy the diverse cuisine of the area's finest fresh fish and shellfish, as well as surf-and-turf selections, sushi, salads, and appetizers inspired by the tastes of Latin America and the Caribbean. If you're seeking the best seaside dining in Miami, look no further than The Rusty Pelican; one of the best weekend brunches in Miami can be found at its tables. Put in at the Pelican's marina, and tie up your boat.
12. Monty's Raw Bar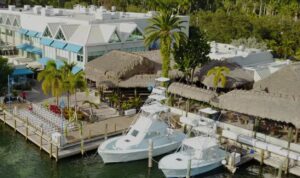 2550 S. Bayshore Drive, Miami, FL 33133
Located in Coconut Grove on the banks of Biscayne Bay, Monty's Raw Bar is a Miami icon for sailors. Covered patio seating and a bustling main dining room ensure that this restaurant is never quiet. In fact, you can't call yourself a true Miami visitor until you've spent an evening enjoying the food, drink, and atmosphere at Monty's. It's the pinnacle of beachfront raw bars, with a fun bikini-bar vibe, complete with live music, heaping plates of fresh seafood, amazing cocktails, Caribbean flavor, and all the trappings of the Miami lifestyle.
If fresh oysters are your thing, you're in for a real treat at Monty's. But the popcorn shrimp, mahi-mahi fingers, and conch fritters all sizzle as well. Awash with the influence of the city's cool vibes, Monty's Raw Bar ensures an entertaining evening; if you're coming for the sunset, plan on staying much longer. Pull into the marina, or give the Boat Master a call at (305) 854-7997 to make arrangements.
Conclusion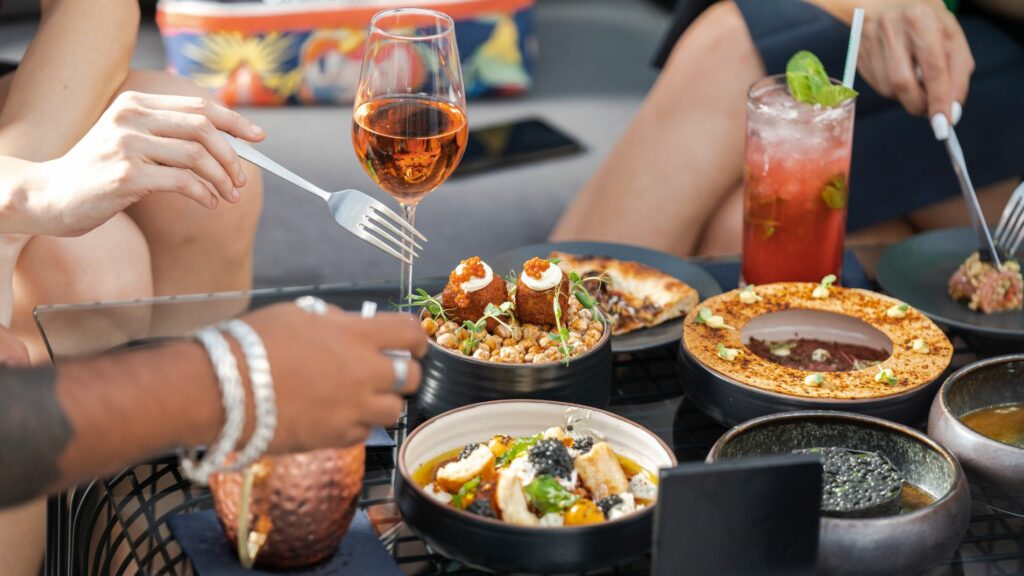 Boating is an addictive bliss! Hopefully, one of these suggestions will scratch an itch and turn a day on the water into an unforgettable occasion, whether you're looking for a family-friendly boating tour or need to make an unscheduled stop for food and fuel.
Read more articles of interest: