Beautiful beaches attract visitors from all over the globe, but in many places, shore-dwelling locals know the best place to relax, people-watch, and have a good time is on a sandbar. Every sandbar is unique, since each was built by the combination of wind and tides to create an island, which may either rise above or lie partially below the water's surface. Sandbars are the ideal spot to spend the day basking in the sun due to their powdery white beaches and paradise-like surroundings in azure seas. Below is a listing of 10 of the finest sandbars the United States has to offer, half of which are located in and around Florida.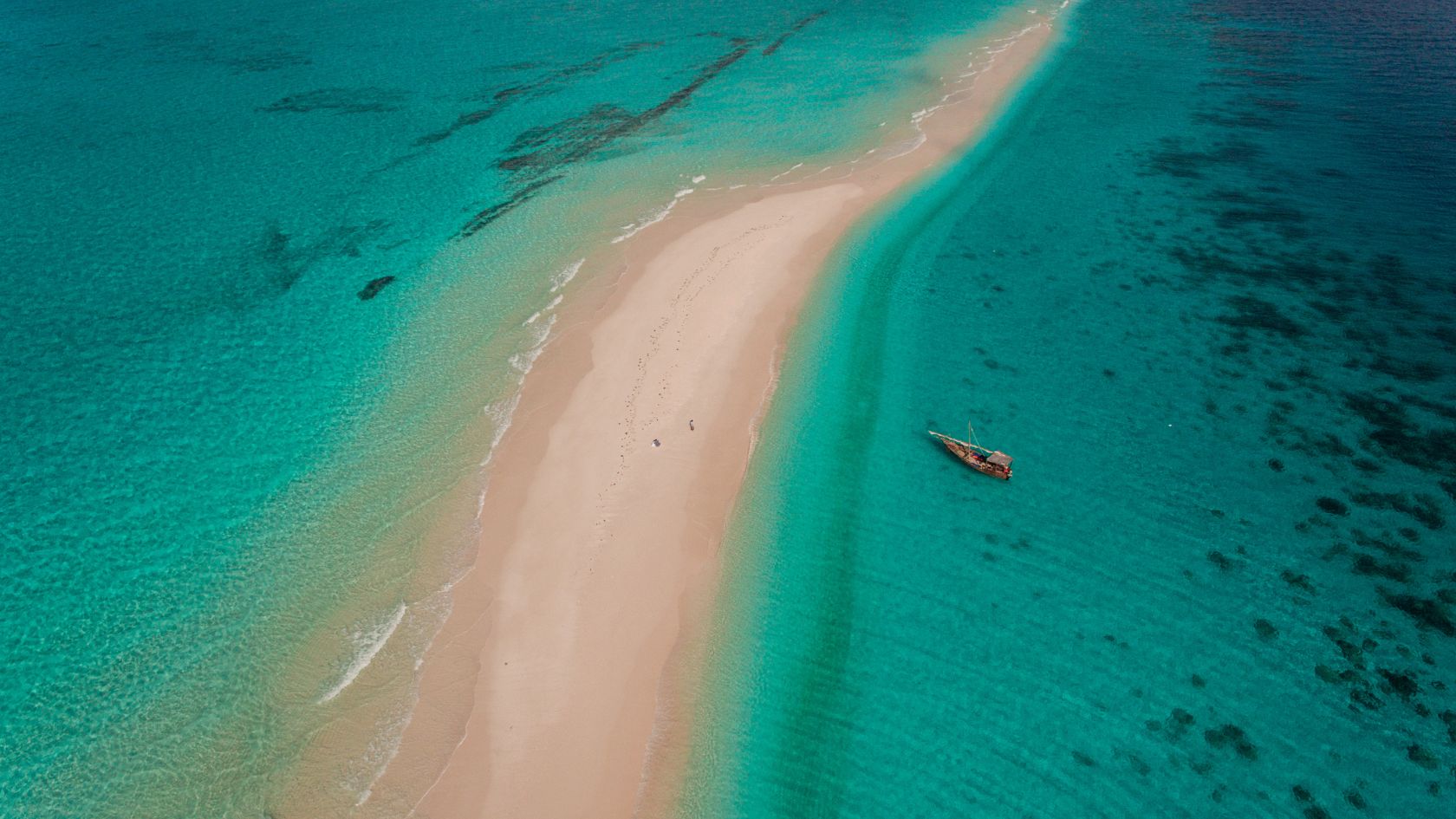 What Sandbars Are
Sandbars are narrow stretches of land that develop at the mouths of rivers and oceans from deposited sediment. Islands can be linked to the mainland via sandbars as well. In most cases, sandbars are shaped like flat beachfronts. The phrases sandbar and spoil island are sometimes used interchangeably because of the overlapping definitions of the two.
What Are "Spoil Islands?"
Spoil islands are man-made islands formed by dredging channels. Over the years, several channels have been excavated through the shallow inshore and coastal seas of different states to facilitate boating and trade.
For example, you can find spoil islands all across Florida's intercoastal waters, and the ones in the Titusville area are particularly appealing, since you can usually have them all to yourself.
What Causes Ocean Currents to Create Sandbars?
Sandbars, either completely or partially submerged, are formed by waves offshore from beaches. Swirling turbulence from breaking waves carves a valley in the sandy floor. The offshore edge of the trough receives part of the sand that washes onto the beach. The bar is further bolstered by sand carried by backwash and rip currents.
A Daily Routine of a Sandbar Dweller
A day spent lounging on a sandbar is the pinnacle of relaxation. It's the equivalent of spending a day on a paradise island. Most people visit sandbars in search of the calm, shallow, turquoise water, as well as opportunities to meet like-minded folk, so claim your territory, set up camp, and relax.
1. Torch Lake Sandbar, Torch Lake, MI
Torch Lake is the longest inland lake in Michigan at 19 miles in length, and it's the second biggest inland lake in Michigan, behind Houghton Lake, at around 29.3 square miles in size. It's also the deepest, with a maximum depth of 310 feet and an average depth of 111 feet. Alden, Eastport, Clam River, Torch Lake, and Torch River are just a few of the towns that can be found on its shores. Lake trout, rock bass, yellow perch, smallmouth bass, muskellunge, pike, ciscoes, brown trout, rainbow trout, Atlantic salmon, and whitefish can all be caught in this famous fishing lake.
The sandbar is several hundred yards from the coast, so you'll need a boat or kayak to get there. You can also rent water jetpacks there. Just be aware that there's a severe lack of public parking spaces in the vicinity.
2. Diamond Lake Sandbar, Cassopolis, MI
This glistening lake lives up to its namesake; the water is so clean and pure that it shines like a diamond. Water activities, such as fishing and boating, are always available. When the wind is strong enough, sailboats will be out in droves on the water. From the lake's public boat ramp, locals can take a vehicle ferry to the lake's central island. Boaters and beachgoers alike go to Diamond Lake's popular sandbar every Fourth of July and throughout the summer.
3. Blankenship Bend Sandbar (Lake Havasu/Colorado River), Lake Havasu City, AZ
About 10 miles north of the area's London Bridge, on the banks of the Colorado River, is one of the most popular local swimming and sunbathing places. Located downstream from Blankenship Bend, this sandbar resembles a little island in the center of the river. Boaters are readily enticed to spend the day lounging on the sandbar beach and in the shallow water.
4. Sandbar on Lake Butte des Morts, Winnebago County, WI
Winnebago County is home to the 8,581-acre Lake Butte des Morts. After the Fox River was dammed near Menasha, most of what is now Lake Butte des Morts was formerly marshland. The dam, constructed in the nineteenth century, is responsible for the shallowness of the lake; its deepest point is barely nine feet to the bottom. There are many opportunities for sailing, and public boat ramps provide convenient access to the lake for tourists. Musky, Panfish, Largemouth Bass, Smallmouth Bass, Northern Pike, Walleye, Sturgeon, and Catfish are just a few of the fish you can catch.
5. Kaneohe Bay (Ahu o Laka) Sandbar, Oahu, HI
Recreational activities, including swimming, sunbathing, beach volleyball, diving, and picnicking, can be enjoyed by boaters and others at the Ahu o Laka sandbar in Kaneohe Bay. Boaters of all stripes, including those on sailboats, kayaks, and jet skis, frequent this area.
At more than three acres in size, the Ahu o Laka sandbar has breathtaking panoramas of Kaneohe Bay and the Koolau Mountains. But note there's no vegetation or birds nesting on Ahu o Laka. The sand wedge itself is a segment of a longer formation that's almost a mile in length. Approximately one mile from the shore, it's found on the lagoon side of a barrier reef. Since visitors must go by boat to reach Ahu o Laka, the sandbar usually has hundreds of vessels tied to it on weekends. Many visitors paddle their kayaks two miles northwest from the Heeia Pier to get there.
6. Crab Island, Destin, FL
There was a time when this place was a peaceful sanctuary. But now Crab Island is where all the locals go to have a good time. On busy days, thousands of people enjoy the floating obstacle courses, stages, and food boats, which attract hundreds of waterborne visitors. At high tide, the turquoise sea is at its purest hue.
Getting to Crab Island requires a boat. Fortunately, a water shuttle service is available, and sandbar boat rentals are also on hand nearby.
7. Whale Harbor Sandbar, Islamorada, FL
Less than a mile offshore from the Postcard Inn and Holiday Isles Marina on the Atlantic Ocean side of the Florida Keys is where you'll find the world-famous Islamorada sandbar. Whale Harbor has stunningly white sand and beautiful blue sea, making it the ideal location for a day of fun in the sun with excellent company.
Extremely frequently throughout the summer and particularly on holiday weekends, hundreds of boats will congregate to throw a massive party on the sea. The shallow water on the sandbar makes it possible to submerge furniture like beach chairs, BBQ grills, picnic tables, and umbrellas. The sandbar is fun for people of all ages and is pet-friendly.
The sandbar is one of Islamorada's greatest natural attractions, although it can only be reached by watercraft. Boats, wave runners, kayaks, and paddleboards can all be used as modes of transport. You can also hire locals to take you and your friends to the largest floating party in the Keys.
8. Lake Boca Sandbar, Boca Raton, FL
Come have fun with the crowd at Lake Boca! Lake Boca is unlike other Florida sandbars since it's located within a densely populated region and is bordered by hotels, restaurants, and private residences. The Boca Bash, held annually in the spring on Lake Boca, is a major attraction for the area.
9. Three Rooker Island, Clearwater, FL
Since the sand that makes up Three Rooker Island was eroded from elsewhere, this small hook of land is just a few decades old. Yes, the island actually expands and contracts with the tides. The sea is as clear and blue as the Caribbean, and the sand is as fine and white as sugar. Pets aren't permitted on the island since a bird sanctuary occupies the northern portion of the landmass just off the coast of northern Pinellas County.
Most Floridians already know about this relatively desolate sandbar. Still, it's an undiscovered gem for individuals who go to the Sunshine State seeking a mellow atmosphere, pleasant company, and exciting boating opportunities. As the clear blue seas lap at their boats, people who desire to explore a small bit of paradise can hardly do better than Three Rooker Island.
10. Baker's Haulover Sandbar, Miami, FL
This North Miami Beach sandbar can be found to the west of the Haulover Beach Marina. It's well-liked by both natives and tourists. There's always a fun time to be had, with parties happening every weekend and almost every day during the summer. Weekends attract hundreds of visitors. The Haulover Sandbar is also a popular destination for boaters.
A sand shoal is visible at low tide on the sandbar. It's like having your very own little island paradise in the middle of the ocean, although actually, the sandbar lies in a bay in the relatively shallow water of a small inlet. The sandbar is a quick trip that won't eat up a whole day; most boaters go for 4 hours, which is more than enough time to visit.
Canoes, jet skis, chartered boats, and private watercraft are all common modes of transportation, since driving and walking aren't options. A food boat (the nautical equivalent of a food truck) serves up regional favorites, such as shrimp ceviche salad; the owner's son will paddle out to you in a kayak to bring the eats to your boat.