While you can find countless boating accessories to buy, it's crucial to acquire the most essential items first. Many of these products promote safety or protect your craft from harm. State or federal law may require you to carry certain items. Keep reading to learn about the most important boat essentials and how to select the right products.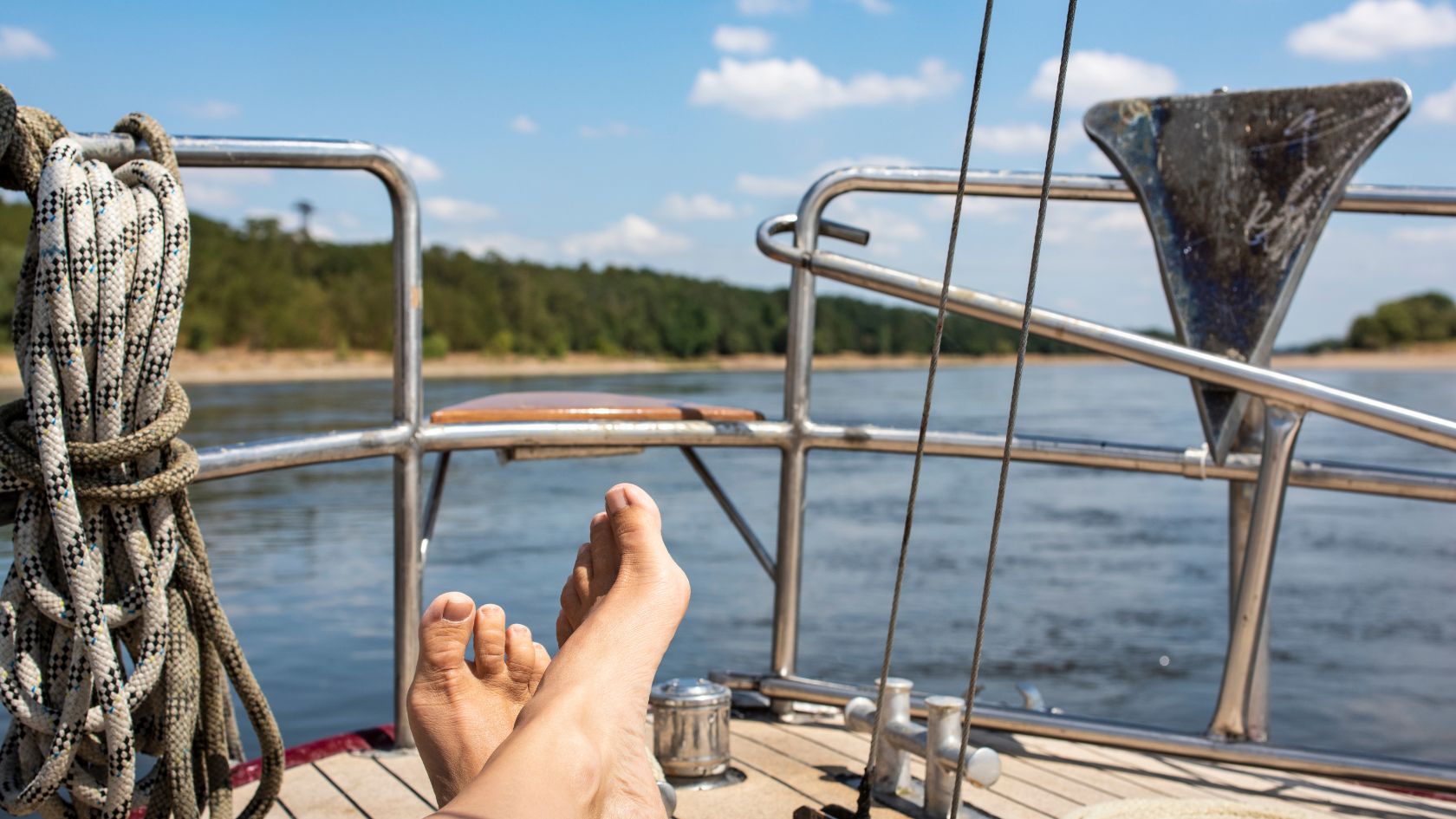 Most Essential
Regardless of whether they have canoes or cabin cruisers, everyone should strongly consider buying these items before they start boating:
Life Jacket
You can greatly reduce the risk of drowning if you wear a life jacket on every trip. Most states have laws that call for kids less than 13 years old to wear them. Several states also require jackets for anyone using personal watercraft. Among others, they include Florida, Texas, Georgia, Massachusetts, Virginia and Nebraska.
It's vital to choose a life jacket that isn't too large or small. Be sure to purchase child-specific products for youngsters. The California Division of Boating and Waterways recommends conventional vests for adults who can't swim (rather than inflatable jackets). Specialized vests have features designed for certain purposes, such as fishing, whitewater rafting or offshore voyages.
First-Aid Kit
An injury or illness can happen at any time, so it's wise to plan ahead by obtaining a waterproof first-aid kit. These medical kits supply items like bandages, disposable gloves, wipes, ointments and a few commonly used medications. The right size depends on how far you plan to travel and how many passengers will accompany you. If your vessel doesn't provide much storage space, think about buying a small kit for the boat and a larger one for your vehicle or home.
Emergency Beacon
A waterproof Personal Locator Beacon is a somewhat more costly safety product. This device lets you request emergency help from almost any location, including many places that lack cellular coverage. If you plan on boating in the ocean or one of the Great Lakes, strongly consider upgrading to a more powerful Emergency Position Indicating Radio Beacon or EPIRB.
Paddles
While they're essential for some small vessels, paddles can also come in handy on a sailboat or motorboat that loses its main source of power. Consider bringing telescopic paddles to use in an emergency; they're compact and inexpensive. If you have a kayak, a double-blade paddle works best. Most canoe owners buy single-blade models, but those who paddle canoes alone may prefer double-blade units.
The heaviest paddles and rowboat oars consist of wood. Lighter options like aluminum and fiberglass could help you reach destinations more easily. If you're willing to pay extra for a particularly light material, choose carbon fiber.
Cushions
It's not uncommon to find hard seats in boats. A cushion can make the difference between an enjoyable or painful journey. While you could use any small pillow, it's best to purchase a cushion that floats. This helps to prevent loss and also provides a low-cost flotation device. You can throw a floating cushion to someone who falls into the water.
Cleaning Products
Any boat will need cleaning sooner or later. Materials like wood, vinyl, fiberglass, canvas and carpeting call for different supplies and tools. Deck wax works well on non-skid fiberglass, and baking soda may help clean canvas. You can often wash vinyl or teak adequately by using soap and water. Brushes with stiff bristles may help you clean carpeting and fiberglass.
Bailing Bucket
If a leak or unexpected rain shower puts unwanted water in your vessel, you'll need a way to remove it. You could buy a specially designed bailing bucket with hand grips and an ergonomic shape. Then again, you can also use just about any open plastic container that holds water. An alternative is to bring a 12-volt electric water pump.
Lighting
If you ever go boating at night, U.S. law requires certain types of exterior lights. A bright flashlight or lantern is sufficient for kayaks and canoes. Try to choose a waterproof model that floats. Wired navigation lights run on the 12-volt power supplied by a vessel's battery. An LED light offers some advantages; it produces less heat and draws fewer watts. This makes it easier to use solar power if desired.
Noise Signals
Federal law calls for almost all vessels to carry a piece of equipment that can produce loud noises. Why? You could use it to get attention, call for help or communicate with other mariners using sound signals. Boaters can choose from a variety of inexpensive devices. Examples include air horns, bells and whistles.
Possibly Essential
These boat essentials only prove necessary for some types of vessels or certain boating activities:
Distress Signals
Flares and distress lights can help you gain assistance if your craft begins to capsize or a medical emergency occurs. Large sailboats and motorboats over 15 feet long are required to have these devices. Other vessels need to carry them when traveling at night. Remember to replace flares every 3.5 years. You won't have to worry about expiration dates when you use an SOS distress light instead.
Fire Extinguisher
If your vessel has any type of engine or electrical equipment, it makes sense to bring at least one marine fire extinguisher. Electrical systems trigger over 40 percent of boat fires. You can purchase a compact extinguisher for about $20 to $30. It's a small investment that could save your life or prevent thousands of dollars in damage. Type B models work best on boats.
The government requires some large vessels to carry multiple unexpired fire extinguishers. If your pre-2018 boat measures 26 to 40 feet long, you'll need a single B-II or two B-I units. Crafts measuring 40.1 to 65 feet should have one of each type or three B-I extinguishers, according to the National Weather Service. A vessel under 26 feet long only needs one B-I unit (two pounds).
If your craft was manufactured in 2018 or later, new rules apply. Boats under 26 feet need a single 10-B or 5-B extinguisher unless they have fixed fire-suppression systems. Most longer vessels must have one 20-B unit or multiple 10-B and 5-B models. Higher numbers refer to bigger extinguishers that cost more but put out larger fires.
Safety Lanyard
If you own a motorized recreational boat or personal watercraft, a new 2021 law likely requires you to use a cut-off switch. You can accomplish this by attaching a safety lanyard to the engine's cut-off switch and your life vest or wrist. Basically, it turns off the engine if you fall overboard. The law doesn't apply if your boat measures at least 26 feet long or has its helm inside of a cabin.
Tool Set
Owners of motorized vessels also benefit from carrying marine toolkits. They include the implements that you're most likely to need on a boat. Be sure to look for a high-quality brand and pay attention to specific items rather than the sometimes-inflated tool counts. These compact sets usually have water-resistant cases, but you still need to protect the tools from moisture. Stainless steel units offer the best corrosion resistance.
Docking Supplies
If you plan to use docks, you'll need things like fenders and dock lines. Polypropylene lines cost less but don't last nearly as long as their nylon counterparts. Pre-spliced lines save time; they're available in single, double and three-strand versions. While single-braid is highly flexible, double-braided lines are strongest and three-strand has the lowest price. Fenders protect boats from banging against docks in windy weather.
Two-Way Radios
A radio lets you contact marinas, communicate with fellow boaters and request emergency assistance if necessary. The most popular option for marine purposes is VHF. Mariners can transmit distress calls on channel 16. Recreational boats don't need radio licenses to use VHF within the United States. You're only required by law to carry a VHF radio if your vessel measures at least 65 feet long.
Portable VHF radios frequently sell at prices below $100. They have small built-in antennas. If you install a radio in your boat, the unit will probably cost $139 to $399. You might pay $40 to $200 for the antenna. Consider buying a radio that includes a weather alert feature. It will sound an alarm if the National Weather Service issues a tornado or thunderstorm warning.
Finally, you can also benefit from remembering to bring products that prove useful on any outdoor adventure, such as bug repellent, hand sanitizer and sunscreen. Being well-prepared will maximize safety and peace of mind. Remember that Boatzon offers a wide variety of quality boating accessories ranging from life jackets to personal locator beacons and VHF radios.