Should it be considered all that unusual if every other boater seems to want their very own personal jet boat? You do know that such boats are propelled by jet engines, right? Because of the high rate of acceleration and a lack of propeller tip cavitation, a jet boat ride has the potential to be one of the most exhilarating for a skilled captain. If you're thinking about making a purchase, here are some considerations to bear in mind so you can choose the jet boat model that's right for you and understand why you would even want to purchase jet boat over other types of boats. From least to most expensive, here is our line-up!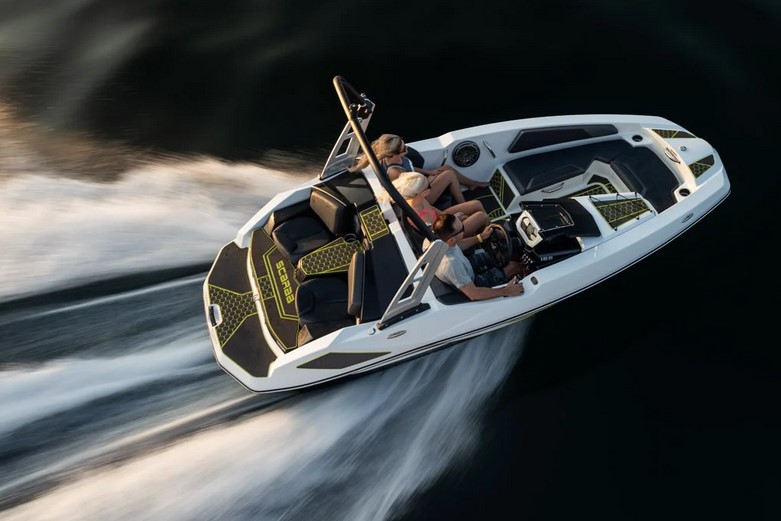 So What Is A Jet Boat Anyway?
"The United States Coast Guard defines the personal watercraft (PWC), among other criteria, as a jet-drive boat less than 12 feet (3.7 meters) long. There are many larger "jet boats" not classed as PWCs, some of which are more than 40 feet (12 meters) long." — Wikipedia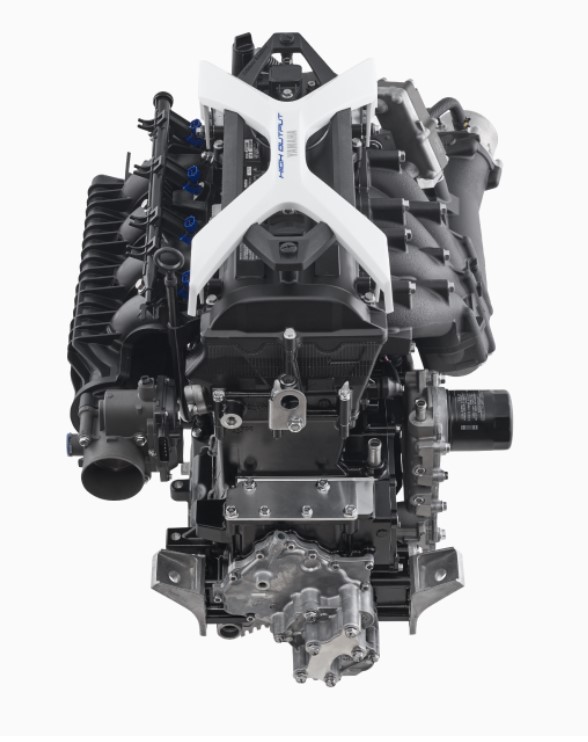 Despite being a less common method for cruising than the typical propeller drive found on a pleasure boat, jet propulsion makes for quite an exhilarating ride. It uses a water jet instead of a propeller to move forward, powered by a normal piston engine.
The impeller, which is a propeller in the shape of a fan housed within a tunnel, takes water in via a port in the hull and expels it through a small, steerable nozzle located on the transom, propelling the boat forward.
Operating a jet boat in shallow water is not only safer due to the lack of a protruding propeller or rudder, but it's also more efficient due to the accompanying reduction in drag.
In the absence of a reverse gear, a bucket can be lowered to divert the thrust beneath the boat. At higher speeds, the water is driven into the impeller by the boat's velocity through the water. The lack of a reverse gear and the need to use a bucket to divert the force beneath the boat make slow-speed maneuvering more challenging, particularly when traveling aft.
The jet boat was originally conceived in New Zealand in 1954. The initial intent of this invention was to protect propellers from damage when traveling rapidly through shallow water on rivers.
Jet boats capable of very high speeds are utilized for racing today. These boats are nimble, have flat hulls, and can stop suddenly by dropping the reversing bucket while at full speed due to the above features. Quite simply, there's no other type of watercraft that's capable of this maneuvering.
Since jet boats lack rudders and outdrives, they're able to make a 180-degree turn inside their own length, even while traveling at great speeds. They can also be pushed laterally into a sharp bend at high velocity, much like a powerful rear-wheel-drive sports car.
The Pros of Acquiring a Jet Boat
Most people use jet boats for recreational purposes like swimming in cold water and other water sports. When boarding or diving from a jet boat's bathing platform, the lack of a visible propeller is a huge plus for safety.
Secondly, jet boats have a relatively small draft, making it easier to beach them. Backing off poses considerably less of a risk of getting stuck or damaging anything, since there are no external propellers to get snagged on. However, you'll need to keep an eye out for weeds or other debris that can be pulled into the intake and cause airflow obstruction or damage to the impeller.
Most jet boats have a flat bottom, which can make for a rough ride in waves of any size. This is particularly relevant for vessels less than 21 feet in length. While some jet boats, particularly those with a bowrider design and a low freeboard, can easily be swamped by high waves, this isn't the case for others.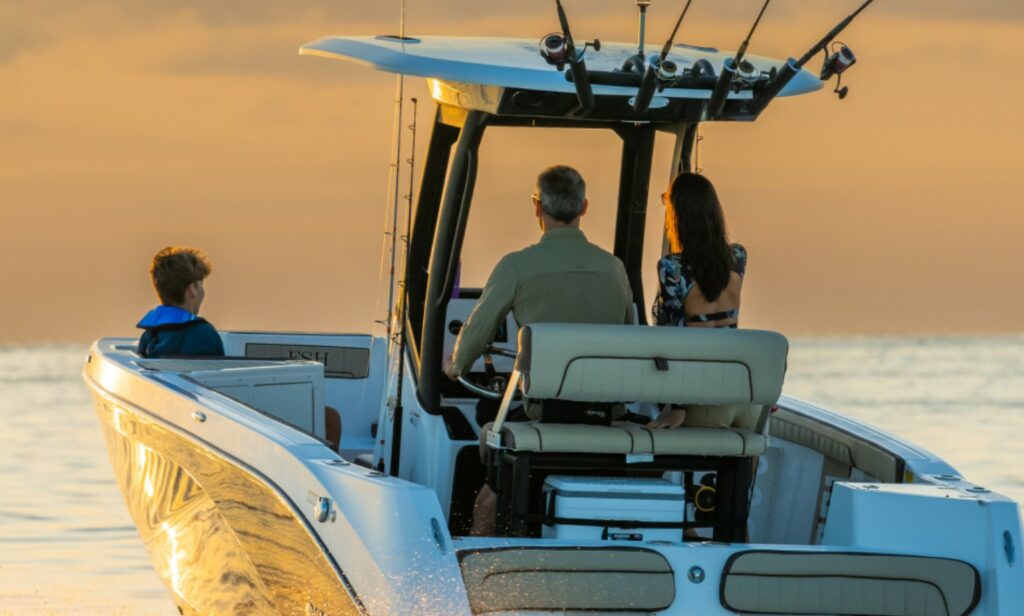 But jet boats can quickly become an issue in conditions more severe than a light chop since they're difficult to track in a straight line without the mechanical grip of a propeller and the keel effect of a sterndrive or an outboard.
Jet boats make use of small, high-revving engines. A 1.5-liter, supercharged Rotax produces 300 horsepower and can rev to over 11,000 rpm. Although they're reliable if they're well maintained, these engines tend to be thirstier and noisier than larger-capacity, naturally aspirated engines.
The only other consideration when shopping for a jet boat is its unique manner of steering when moving at slow speeds. If you want to steer a jet boat in a certain direction while you're moving slowly, you'll need to make near-constant course corrections.
Not only do many jet boats lack a neutral gear, but their always-spinning impellers also prevent their engines from sitting still. In some cases, manufacturers may partially lower the reversing bucket to try to find a happy medium between forward and reverse motion and therefore circumvent this issue. However, this workaround can never replace a true neutral gear in terms of effectiveness.
Docking a jet boat for the first time can be tricky, since the steering works in the opposite way of that of a conventional propeller-powered vessel, making it difficult to maneuver in the stern. It's not hard to become more experienced with this, but keep in mind that a jet-driven boat won't ever respond like a propeller-driven one.
In terms of both price and speed, where do they lie exactly? For as little as $25,000, you can get yourself a brand-new, high-quality jet boat, and that usually includes the trailer. At the opposite end of the price spectrum is a 40-foot Hinckley Picnic Boat, which would set you back close to $1.7 million.
Many commercially available jet boats can easily reach speeds of over 70 mph, and the fastest-ever jet boat, Dave Warby's Spirit of Australia II, was clocked at 317 mph in 1978, making it the fastest watercraft in history. The typical speed of a jet boat is about 50 mph, but some models have no problem exceeding that limit.
If the above details have piqued your curiosity, read on to find out our recommendations for the best jet boats currently on the market.
Best 5 Jet Boats from Least to Most Expensive
Sea-Doo Switch Cruise 21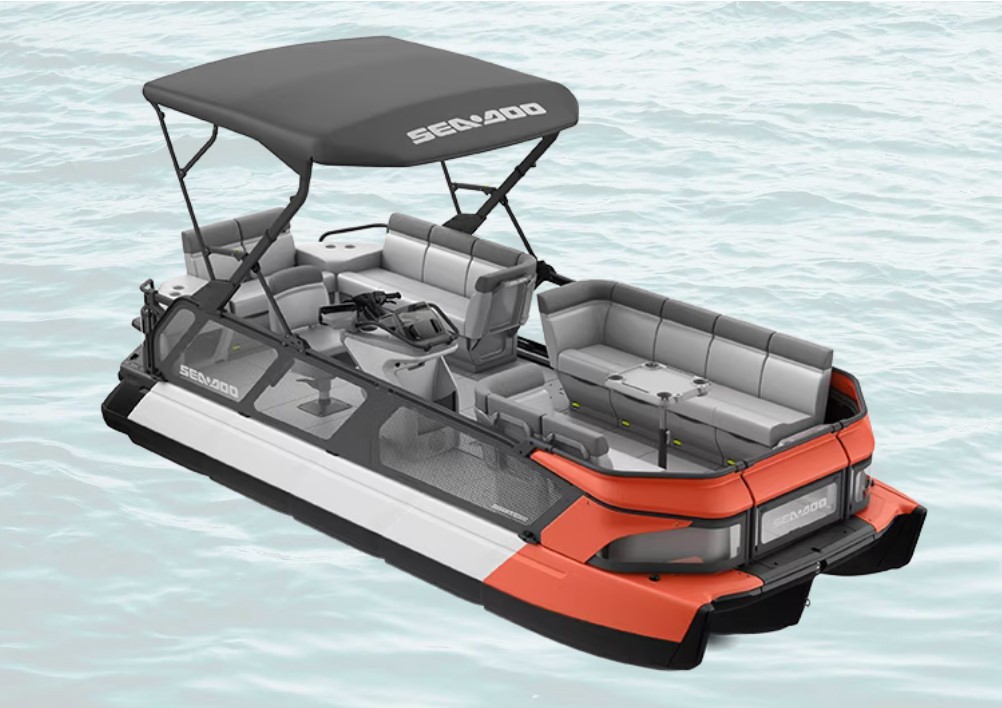 Next up on our list of the top jet boats is the Sea-Doo Switch Cruise 21. This boat, built out of Sea Doo's Polytec material, is actually a pontoon boat. The Switch Cruise 21, like Sea-Doo's PWCs, is steered with a pair of handlebars similar to those on a motorcycle instead of with a steering wheel. The Switch Cruise 21's engine is a Rotax ACE 1630, which can provide either 170 or 230 horsepower.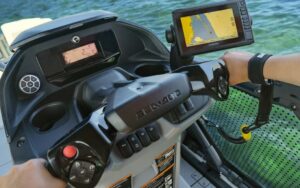 The Switch's unusual deck layout lets you alter the deck for each new waterborne adventure, or you can add to it over time. The seats and couches on the modular deck can be shifted from one side to the other, and tables can be moved and rearranged as needed and can be secured with locking mechanisms. The boat comes with a 100-watt Bluetooth radio, a 7-inch OEM Garmin touchscreen ECHOMAP GPS Chartplotter, and a Bimini top with an aluminum frame. There's also a trailer that can be fitted to your specifications.
Estimated MSRP range: $36,499
View Sea-Doo Jets for sale on Boatzon
Scarab 165 ID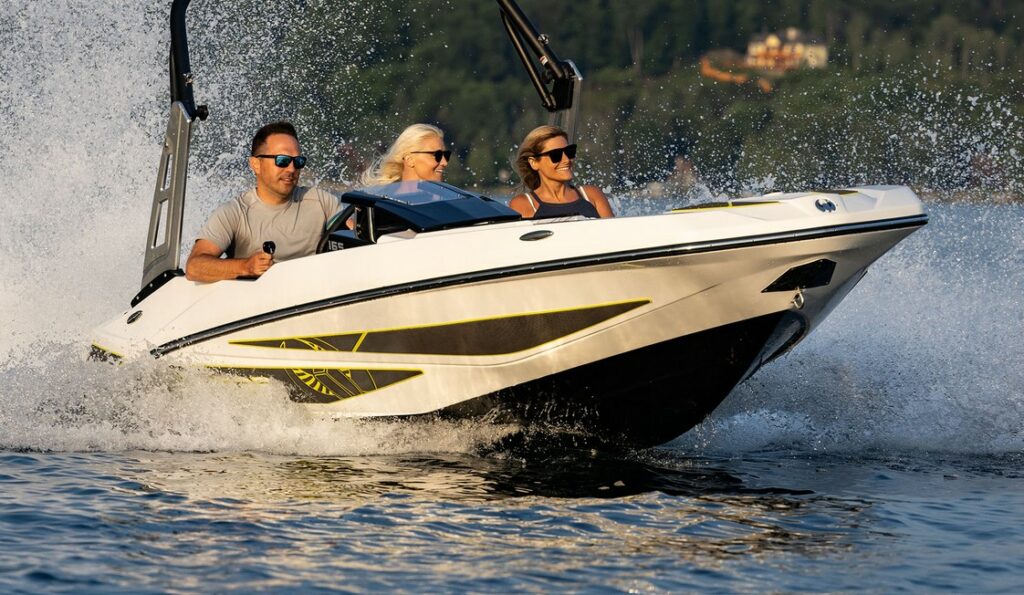 One can argue that the Scarab 165 ID, being one of the smallest, least expensive, and most user-friendly jet boats on the market, deserves a spot on our list of the best jet boats. But the truth is that no other boat can compare to this one in terms of the enjoyment it provides. The 165 ID comes standard with a 170 ECT engine, but an optional 300-horsepower ACE 1.6L motor makes handling one seem like you're piloting your own PWC.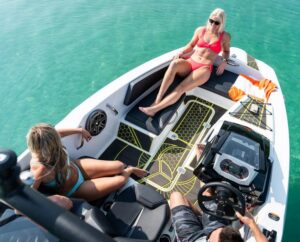 Although compact, the Scarab 165 ID is equipped with a tow-eye and sufficient power to pull water skiers and wakeboarders. There are a variety of add-ons that can be purchased separately, including a Bimini top, a hinged tow tower with gas-assist struts, and board racks. In addition to the aforementioned amenities, there are also USB charging ports, a depth sounder, cruise control, two speakers, and a radio that's Bluetooth-enabled. A trailer that's complete with underwater LED lights and aluminum wheels is included in the package.
Estimated MSRP range: $45,000
View Scarab Jets for sale on Boatzon
Yamaha 222 FSH Sport E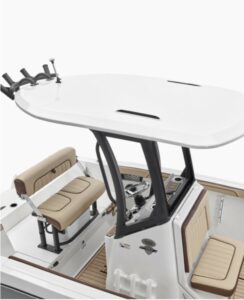 There's happy news for fishermen: one of the most powerful jet boats on the market was built with you in mind. The Yamaha FSH series, of which the 222 FSH Sport E is a laudable example, is a great lineup. This boat is 22 feet long, and it's controlled from a central console up front. On the back, there's a T-Top with four rocket launchers. There's an insulated fish box in the bow and a removable cooler beneath the leaning post. The transom features an 18-gallon livewell. The console's sides offer vertical rod racks.
Water is driven through two high-pressure 1.5-millimeter pumps by a 1.8-liter HO Yamaha engine. The 222 FSH Sport comes in a base model, but upgrading to the "E" option gives you access to a number of extra comforts and conveniences, including a 9" Simrad touchscreen multifunction display (MFD), throttle by wire, a Yamaha Drive Control, start/stop push-buttons, and underwater lighting.
Estimated MSRP range: $71,999
View Yamaha Jets for sale on Boatzon
Yamaha 255 XD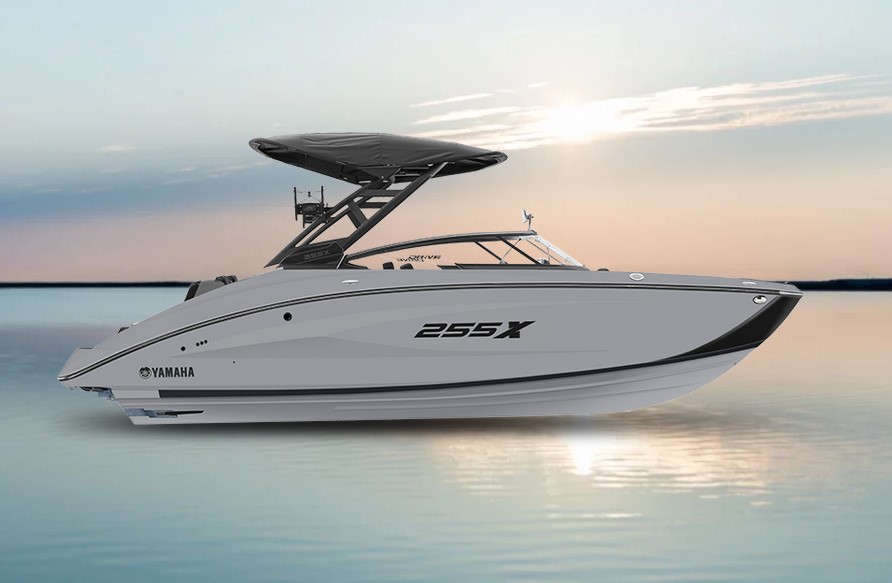 The Yamaha 255 XD is the best jet boat option for those interested in water sports. To create bigger waves for wakeboarding, Yamaha designed the Wakebooster, an accessory similar to a trim tab. If you want even bigger wakes, the craft's 1,600-pound ballast system is at your disposal. This vessel was designed specifically for recreational boating and other aquatic activities.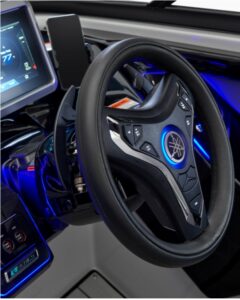 The boat's stern rests low in the water, making it suitable for a wide range of activities, owing to the well-thought-out hull design. The boat's tower also has sport-oriented details, such as a sound bar that pumps up the volume of the already powerful amplifiers and subwoofer.
The 255 XD measures in at a length of 24'6" and a beam of 8'6", making it rather large for a jet boat. This means that there's plenty of room for passengers and that you can depart with as many as a dozen people aboard. Two 1,812cc Yamaha supercharged SVHO four-stroke jet engines provide the thrust. More than 50 mph is possible thanks to the combined power of these engines, which total roughly 500 horsepower. A 12.3-inch Connext touchscreen control panel, throttle by wire, electronic power steering, USB charging ports, cruise aid, no-wake mode, and a "boat wellness" function display are just some of the cutting-edge technologies found on the 255 XD.
Estimated MSRP range: $108,799
View Yamaha Jets for sale on Boatzon
Scarab 285 ID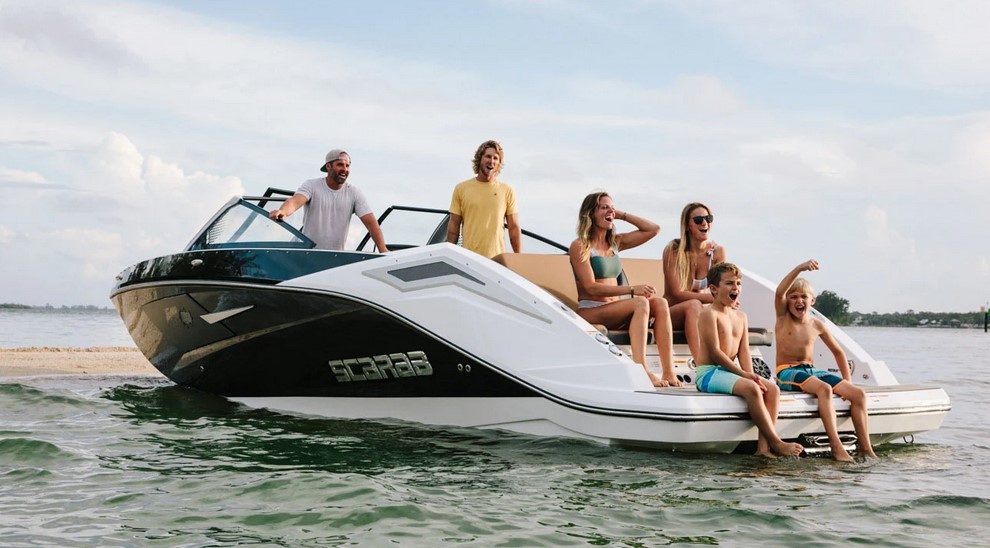 The Scarab 285 ID sits at the high end of the Scarab model range and is the largest and most luxurious jet boat produced by the company. The yacht certification plus the boat's generous dimensions (28 feet in length with a beam of 9 feet 2 inches) make this one of the roomiest jet boats on the market. Standard power comes from a pair of Rotax 230 ECT engines, with dual 300s available as options.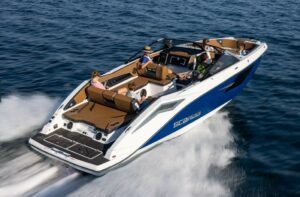 You can expect nothing less than the highest levels of luxury and convenience aboard this boat. It offers several high-end features as standard equipment, including an enclosed head compartment, an integrated deck ski locker, a four-speaker Bluetooth audio system, a sundeck with a movable backrest, and a touchscreen user interface with a chartplotter. In addition, it has a slot for holding and charging your cell phone. A large cockpit L-seat, a double-wide passenger seat, a helm chair, and wraparound bow seats are all included. If you want a jet boat that's roomy and luxurious, this is your best bet.
Estimated MSRP range: $130,420
View Scarab Jets for sale on Boatzon
Read additional reviews: