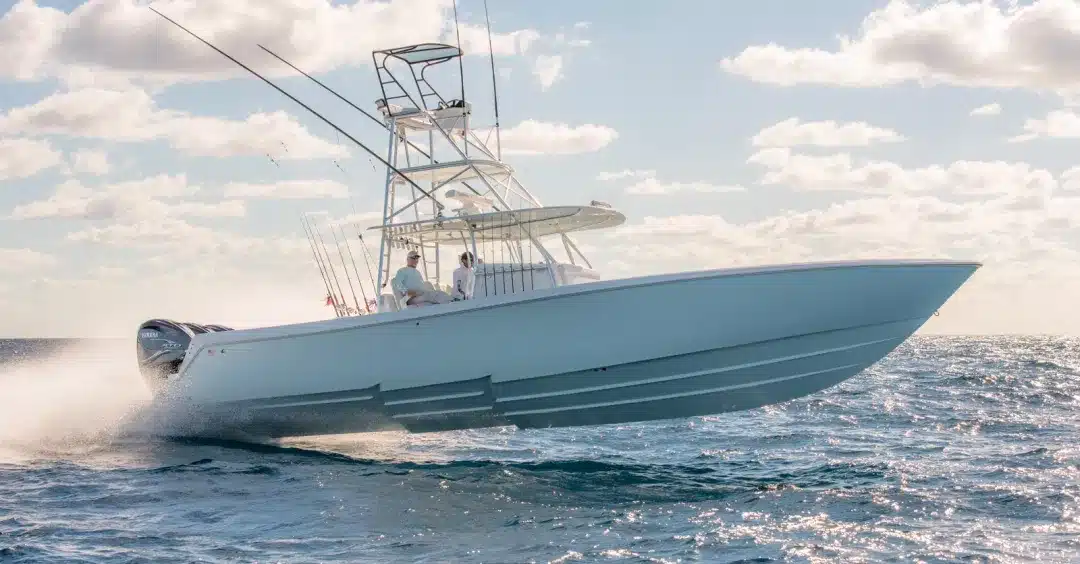 We are going to go over the top 10 center console boat manufactures and give feedback from real anglers and boat owners. There are many articles on the internet with bland information, but we are going to dig a little deeper with genuine feedback.
Keep in mind, when someone is searching for a center console boat, there are many different requirements and needs. Some are in need of deep-sea angling, some are a hybrid of fish and family fun, or even bay cruising. It is a broad subject, but I'll try to hit key points for all types of boaters. I'm also going to give genuine feedback on issues with manufacturers, especially if you are looking to buy a used center console or older model. But keep in mind, most of these issues have been solved with newer models.
For these reasons, I'm not going to necessarily rank a #1 or #10 because it is not fair to a consumer and sometimes a manufacturer. We are just going to review the top center console manufacturers.
Top Center Console Fishing Boat Manufacturers
Contender Boats
Regulator Boats
Invincible Boats
Yellowfin Boats
Boston Whaler
Intrepid Boats
PathFinder Boats
Grady-White Boats
EverGlades Boats
Valhalla Boatworks
Contender Boats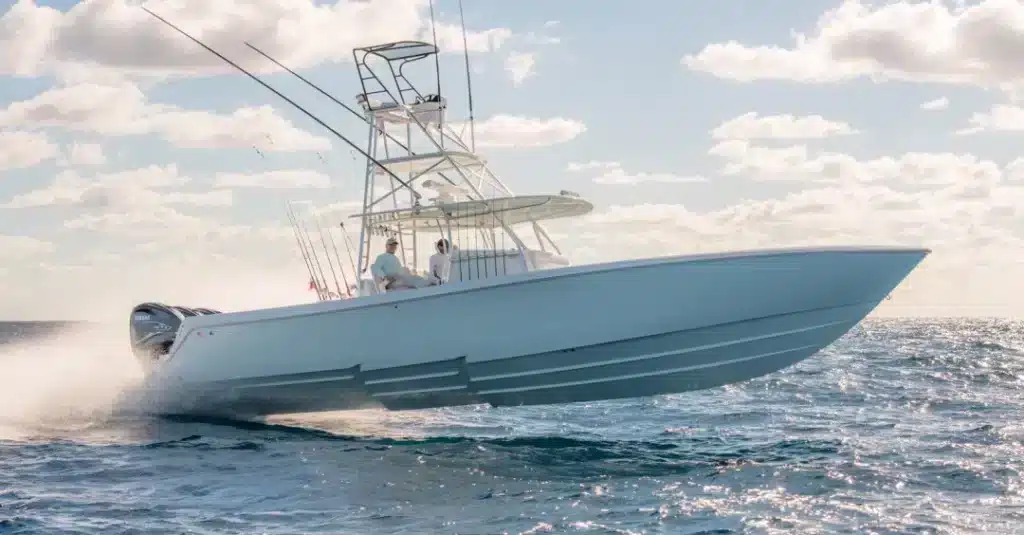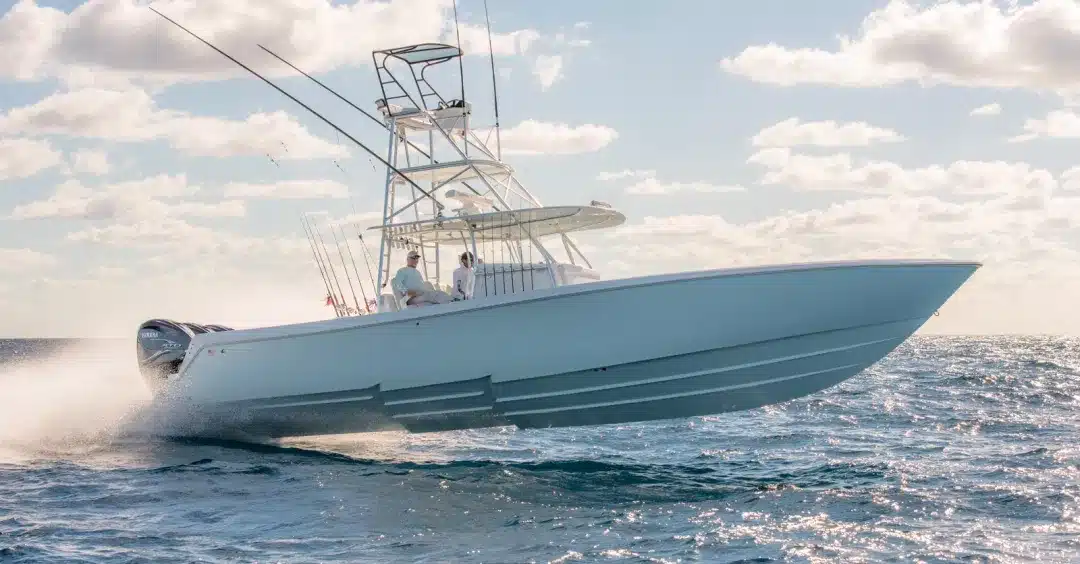 Take a drive on the Southeast coast in Florida, and you'll wonder why you see so many Contender boats in the water. They are fishing machines and can cut through rough waters like no other. I've have driven almost every model of contender and have always been impressed with the hull design. Until recently, the 36 Open and 35ST were their largest models, but they now manufacturer a 39 foot ST, and a 44 foot model. Contender's center console fleet ranges from 24 foot to 44 foot.
The Contender feels lighter on the water, for example compared to a comparable sized Boston Whaler. But the ride is still solid, even five-to-six-foot-seas are no problem to experienced driver. Instead of trimming up, I've personally trimmed down a bit to ride the top of wave, but also drive through it. Great driving boat in rough seas.
The small downside, you are not going to get the fancy stitching on the upholstery, or entertainment features for the family, or "fine touch" amenities you might get on other center console boats. You are typically also not going to get many family related features on a Contender boat. Contender might argue with me a bit on this topic, but they are getting better at it.
Contender boats are made to fish, get the floor bloody, and even win tournaments. However, I will say, in the past 5 years Contender has stepped up their upholstery and options.
Known Issues
If you're buying an older used Contender center console, ask about the gas tanks. Their older models have a reputation for gas tank issues and leaks. If the boat is 20 years old or more, make this a must-have question. I have replaced my gas tanks in my Contenders before and it is not a fun endeavor.
Scores ( 10 being best)
Fishing – 10
Performance/Ride = 10
Family Features = 3
Fine Touches / Amenities = 6
View Contender boats for sale on Boatzon
Regulator Boats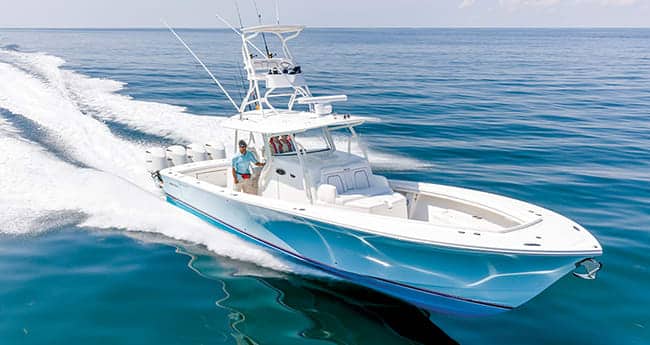 Most boaters in search of a center console often don't think first on Regulator boats. Maybe it is because they don't market as aggressively as other manufacturers. But guys, Regulator is a beast of a center console. Very close to a tie with Contender boats in this ranking. They are also fishing machines and have no problem in rough seas. They have also increased their center console model size to 41 feet but have their flag ship models starting at 23 feet.
The Regular line feels a little be heavier on the water to me, but still a tremendous ride. You'll have no issues driving in rough seas in any Regulator center console model.
In the past 5 years or so, Regulator center consoles have really stepped up their game with their upholstery and family features. I know it has a hefty price tag starting at 1,2000,000, but the Regulator 41 is a fishing machine, while having many amenities for the family.
Known Issues:
Some issues reported such as water in bilge, wiring issues, and fiberglass flexing issues are primarily on older Regulator center consoles. These problems were eventually resolved by using better construction and materials. But if you are looking at older models, be aware of these older issues.
Scores ( 10 being best)
Fishing – 9
Performance/Ride = 9
Family Features = 3
Fine Touches / Amenities = 7
View Regulator Boats sale on Boatzon
Invincible Boats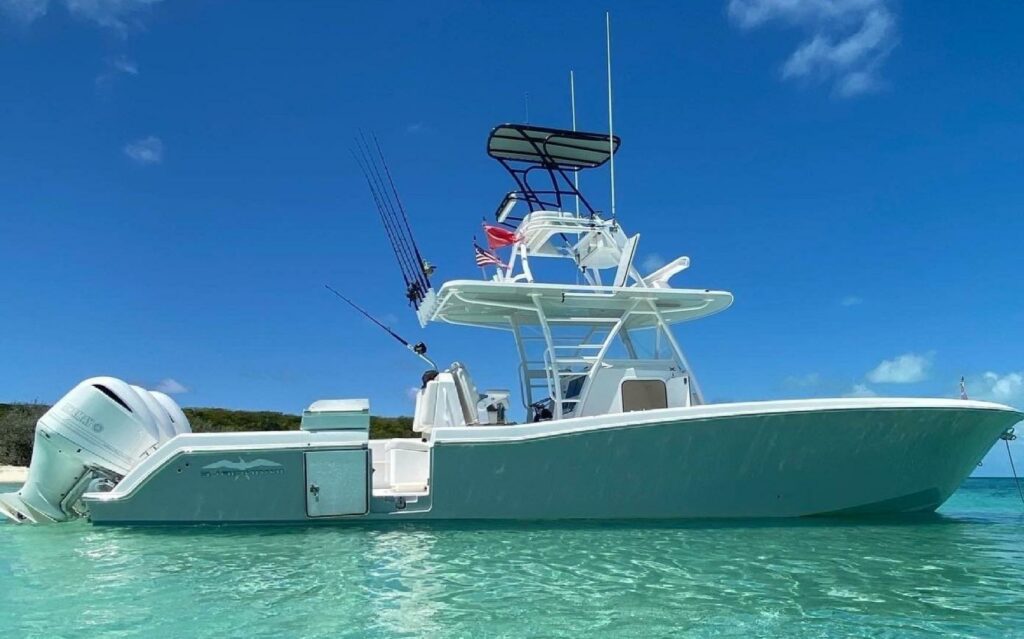 Invincible boats have been a big splash in the center console boat market. Many boaters might say, "I thought they make Catamarans". They do, but they also make great center console boats ranging from 33 feet to 43 feet.
The lines on the invincible center console boats are elegant, and they really give a polished product with high-end upholstery and stitching. The bow layout and configuration is very similar to the Contender center console with its forward facing bench seat and storage. You'll also see many Invincible center consoles configured with 20 plus rod holders throughout the boat. It really is a fishing machine.
Not a concern for many, but models have one large live bait well versus some center consoles like Contender have two separate bait wells. This is personal preference; I've always like to separate different bait fish at times, so they don't beat each other up.
Known Issues:
This article is to genuinely inform you of expert reviews. Some people have complained about the performance of the boat, that the boat doesn't handle well in rough waters, and that it is slow. Others have said the boat doesn't have enough storage. There might be a small agreement on the storage space, but I respectfully disagree on the performance of the boat.
Scores ( 10 being best)
Fishing – 9
Performance/Ride = 8
Family Features = 4
Fine Touches / Amenities = 8
View Invincible boats for sale on Boatzon
Yellowfin Boats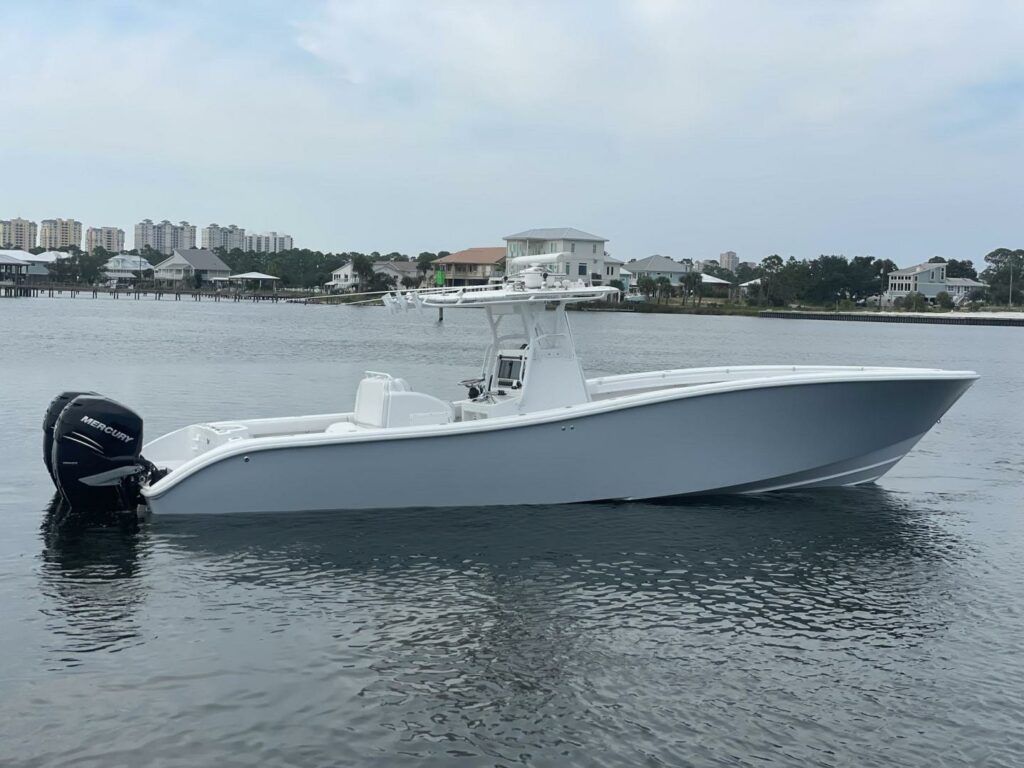 Aesthetically, Yellowfin boats in my opinion are one of the most beautiful center consoles to be ever produced. The lines on this manufacture are like no other. If you want to turn heads, the Yellowfin center console is a gorgeous fishing machine. I've always loved running a Yellowfin, the hull lifts almost instantly on plane and a great riding boat offshore.
Like most new center consoles, Yellowfin boats are not cheap, but they are well-built boats with some of the highest craftmanship. The Yellowfin 36 center console has been their flagship model and is one of most sought-after fishing boats.
Yellowfin has also stepped up their quality on upholstery and family features such as forward seating. One thing to keep in mind, Yellowfin center consoles have Deep-V hulls and I wouldn't recommend putting their larger models on a trailer. I've had couple friends with minor scrapes when launching from a trailer.
Known Issues:
Ask if the thru-hull fittings are stainless steel or bronze. Some of the older models that were stainless steel would corrode a bit if the boat was left in the water. And be careful launching your Yellowfin off a trailer, many hull scrub issues with launching because of their Deep-V design.
Scores ( 10 being best)
Fishing – 8
Performance/Ride = 8
Family Features = 3
Fine Touches / Amenities = 6
View Yellowfin boats for sale on Boatzon
Boston Whaler Boats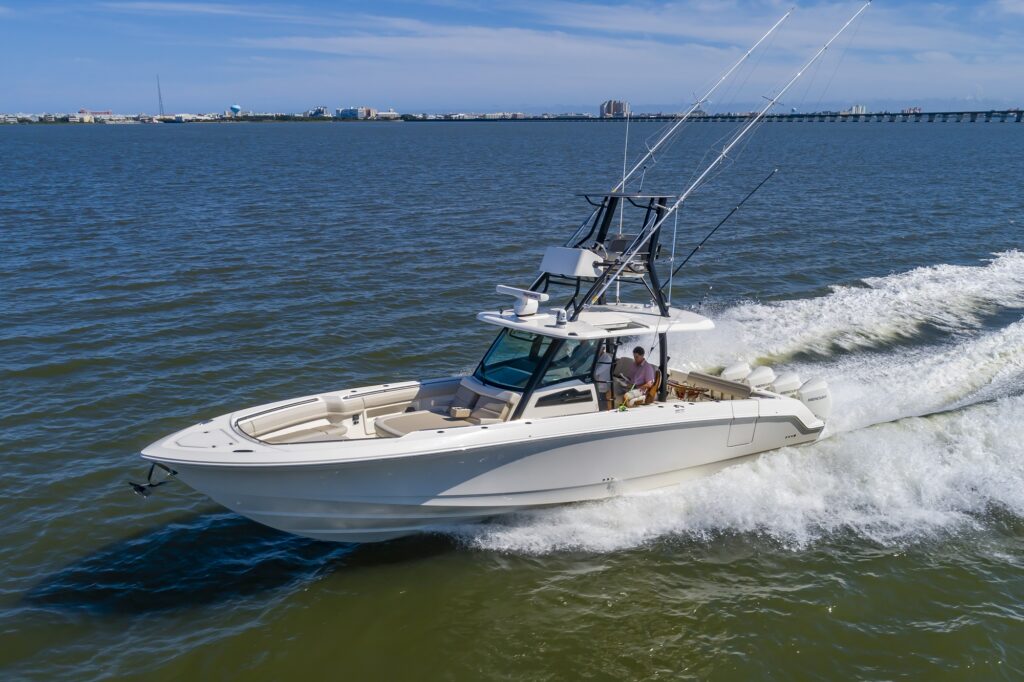 Boston Whaler, and American classic and notoriously for being "unsinkable" with its UniBond construction. Boston Whaler laminates the hull and deck and then injects foam into every space between the two structures, making the boat one solid piece.
If you want superior craftmanship, upholstery, and family features, this may be your boat. The Boston Whaler Outrage models start at 23 feet, scaling to the massive 42-foot fishing machine. Throughout the years, Boston Whaler has done a great job of mixing a great fishing boat with a great family boat. With many designs having forward seating, bow tables, and entertainment and grill stations, you can really enjoy a day out fishing with family and friends.
I feel the Boston Whaler center consoles are heavy boats, providing a stable and great ride in proper seas. With their known wide beams, even drift fishing proves to be a gentle experience. One thing I like about Boston Whaler center consoles is the fishing and general storage space.
Known Issues:
If you are buying an older Boston Whaler center console, the biggest problem with older Whalers is water infiltration into the foam and wood. But there are many variables in this such as the boat owner maintenance and mooring conditions. On newer models, I've heard about various electrical issues. But to be fair, most newer boats are inundated with new electronics, controls, and toys which sometimes give us boaters, as well as mechanics and installers headaches.
Scores ( 10 being best)
Fishing – 7
Performance/Ride = 8
Family Features = 7
Fine Touches / Amenities = 10
View Boston Whaler for sale on Boatzon
Intrepid Boats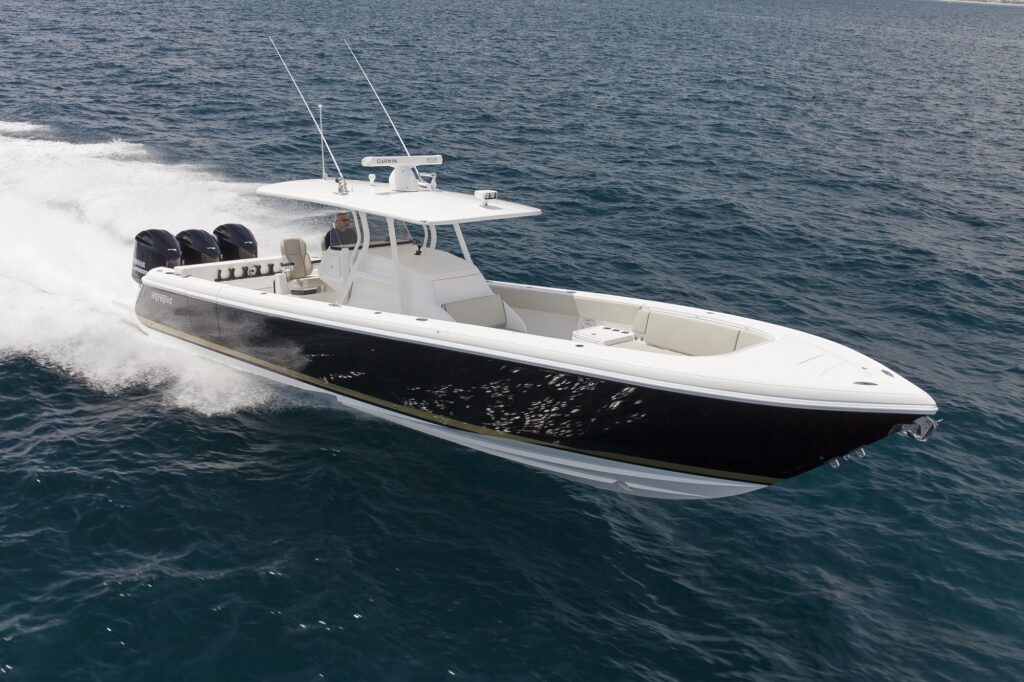 Intrepid Powerboats center consoles are one of the finest constructed fishing machines ever. From the gunnels, to the upholstery and stitching, to the luxury forward lounge seating, the Intrepid center consoles are geared for fishing or clinging champaign glasses. Their center console models start at 30 feet, scaling to the 42-foot Nomad 427 SE.
I think Intrepid are great fishing boats, but it is also designed for luxury and excursions. A fun fact, maybe this is why they are the most popular center consoles used as tenders for luxury mega yachts.
Intrepid Powersports is a custom builder and be cautious comparing "base" prices. Each Intrepid center console is custom built, and they offer a wide range of options and upgrades.
Known Issues:
To be transparent, besides similar new boat electrical glitches, there are not many reported issues for Intrepid center consoles.
Scores ( 10 being best)
Fishing – 7
Performance/Ride = 9
Family Features = 8
Fine Touches / Amenities = 10
View Intrepid boats for sale on Boatzon
Pathfinder Boats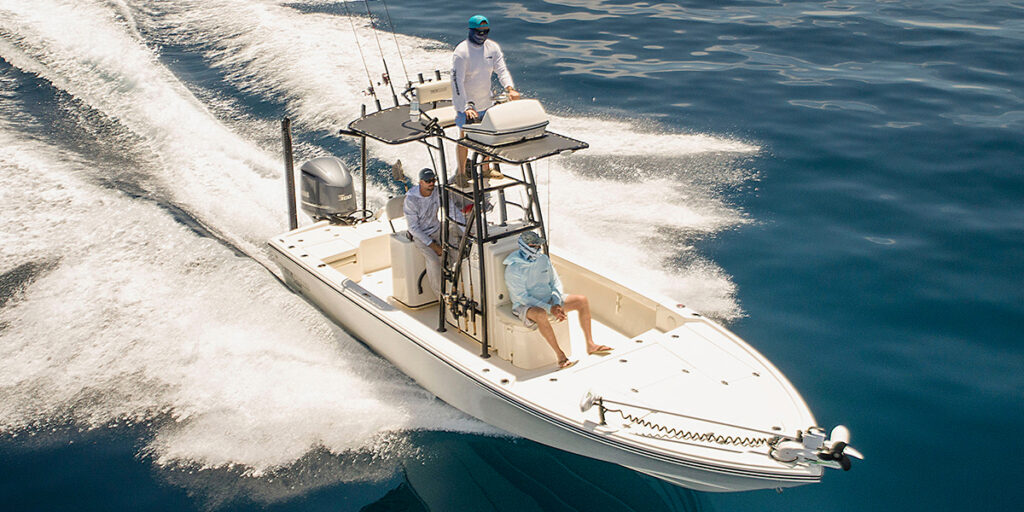 We put Pathfinder center consoles at seven here because of its versatility, quality, and competitive pricing. The largest Pathfinder center console is only 27 feet, but Pathfinder boats give anglers the opportunities that exist between the shallow flats, to the bay, to the deepest oceans. The Pathfinder 2700 Open starts at around $150,000, but way under many competitors on this list.
Great construction, good upholstery, and a great ride. Now let's be realistic, an experienced captain can take a Pathfinder out on 4-5 foot seas, but it won't be a great day at sea. What has always gotten my attention is the quality of construction. Pathfinder boats are a well-engineered, clean, strong boat.
Most Pathfinders have a forward raised casting platform which comes in handy while fishing and fighting a fish.
Known Issues:
Some older Pathfinder center console models had problems with hatch lids. These lids would crack around the hinges, but this was fixed by using better materials. With older Pathfinder center consoles, gelcoat blisters may be another problem. Gelcoat blisters occur when water gets trapped under the gelcoat and causes it to lift. But again, better materials have seemed to solve this. Note, these issues were resolved with newer models.
Scores ( 10 being best)
Fishing – 9
Performance/Ride = 7
Family Features = 4
Fine Touches / Amenities = 7
View Pathfinder boats for sale on Boatzon
Grady White Boats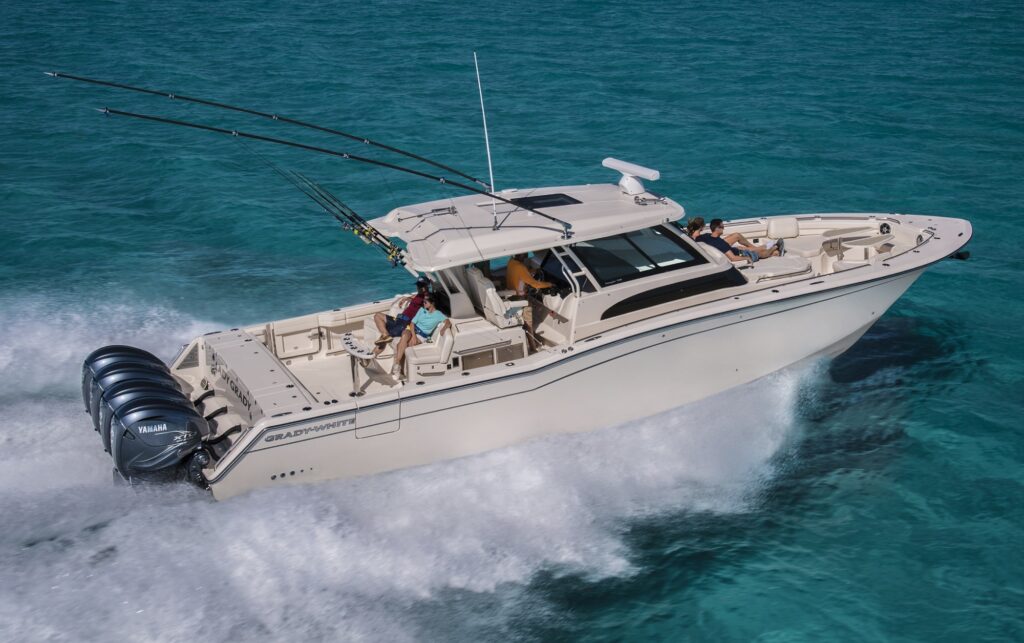 Grady-White center console boats are another American classic, ranging from 18 feet to nearly 46 feet. Grady-White are great boats, but you might notice a more traditional look and feel when it comes to the lines of the boat and the upholstery on the smaller center consoles. But everything is relative, when you step onto the Grady-White 476 Canyon, you will luxury at its finest. The 476 Canyon really gives a "yacht feeling", but also does it price tag.
Grady-White also does a good job when it is time to spend some quality moments with family and friends. Very comfortable, quality upholstery, and good options such as forward seating and entertainment configurations.
I've driven many Grady-Whites in my time and I've always enjoyed the ride, even in rough seas. But if you are into fuel mileage, you might want to ease the throttle a bit. Grady-White boats are built with the best materials and these materials can be heavier than cheaper alternatives. These are heavy boats.
Known Issues:
Times have changed and designs have changed throughout the years, but if you are looking at an older Grady-White boat, know that older models have suffered from issues involving the wood used in their construction. Older Grady-Whites used wood in their hull and transom designs which tended to rot.
Scores ( 10 being best)
Fishing – 8
Performance/Ride = 8
Family Features = 7
Fine Touches / Amenities = 6
View Grady-White boats for sale on Boatzon
Evergaldes Boats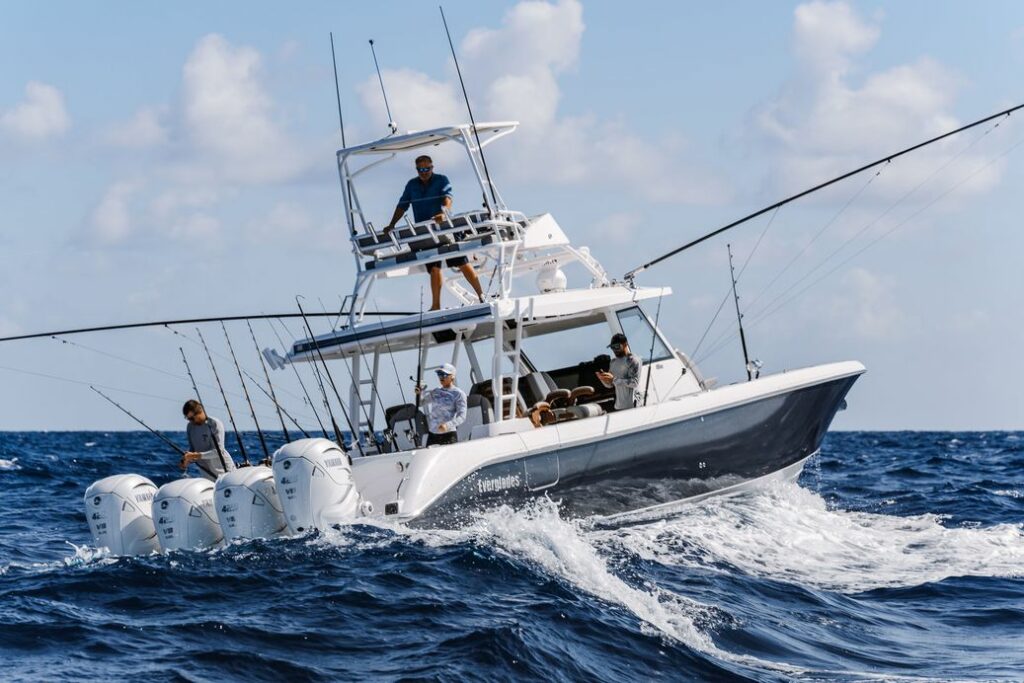 The Everglades center consoles are an offshore fishing machine ranging from 23 feet to 45 feet. You'll see Everglades center consoles with a ton of rod holders for anglers and plush upholstery when you take the family out for a day fishing.
I've driven on a handful of Everglades center consoles and have always been impressed with performance and durability in rough seas. Like Boston Whaler, Everglades Boats also claims their boats are unsinkable with their patented foaming technique and RAMCAP construction. And Everglades Boats back it up with a lifetime hull warranty and three-year component warranty.
One note, Everglades center consoles are typically heavy boats which have pros and cons. You may suffer from acceleration compared to other center consoles, but the stability and drive is solid.
Known Issues:
For the most part, there are not too many complaints about Everglades center consoles besides the common issues most boat owners face here and there. You may read about some wiring issues on older boats, but overall it's minor issues.
Scores ( 10 being best)
Fishing – 10
Performance/Ride = 8
Family Features = 7
Fine Touches / Amenities = 9
View Everglades boats for sale on Boatzon
Valhalla Boatworks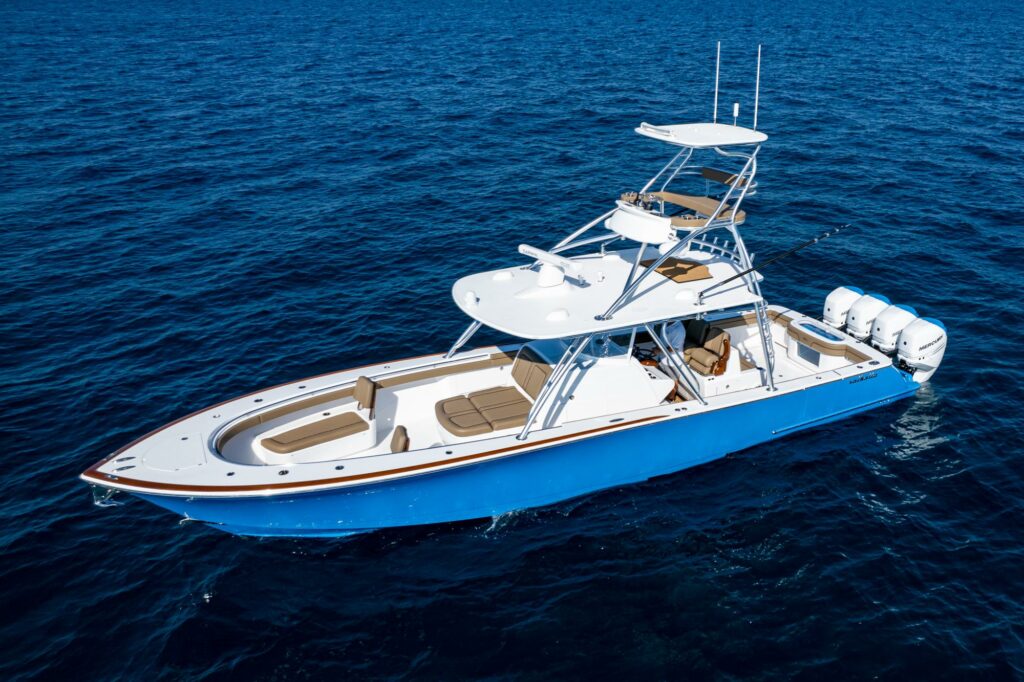 Never heard of Valhalla Boatworks? Don't worry, we'll give you a good introduction. Valhalla is owned and operated by Viking Yacht Company, the legendary builder of some of the world's finest sportfishing boats and yachts. In saying that, Valhalla is built with unmatched performance, luxury, engineering, and comfort. The fleet starts at 33 feet to 46 feet and they are hard-core fish boats.
These boats are a head-turner folks. You're not going to find better upholstery and fine details on another center console. The Valhalla Boatworks center consoles also have teak on the top of the gunnels that really add a classic look.
However, if you are used to catching bloody Mahi out there, get ready to spend a few hours cleaning this beauty. This is the Rolls Royce of center consoles. The Valhalla center consoles also have good options for family and friends cruising in comfort.
Known Issues:
Being relatively new to the center console industry, I have not heard about any issues for Valhalla Boatworks. Even after conducting a thorough Google search, I could not find known issues.
Scores ( 10 being best)
Fishing – 8
Performance/Ride = 8
Family Features = 5
Fine Touches / Amenities = 10
View Valhalla boats for sale on Boatzon
The Best Center Consoles Wrap Up
Saying "the top 10 center consoles" or "the best center consoles" is sometimes tricky, as everyone's needs, requirements, and budgets are different. There are many high-qualify center console manufactures in the boating industry. We hope this center console article and review was helpful and hope to see you on the water!