You're familiar with the old saying: the two best days of a boat owner's life are the day they buy the boat, and the day they sell it. 
You don't want to be that person, and that's why it's especially important to figure out how to choose the right boat before you actually commit to it. It's not like collecting baseball cards, after all: make a mistake while you're buying a boat and it could be a very costly, embarrassing, and hard-to-unravel endeavor.
Choosing the right boat can be overwhelming at first. That's why we've written this guide to help you narrow down your selection to the best boat type for you.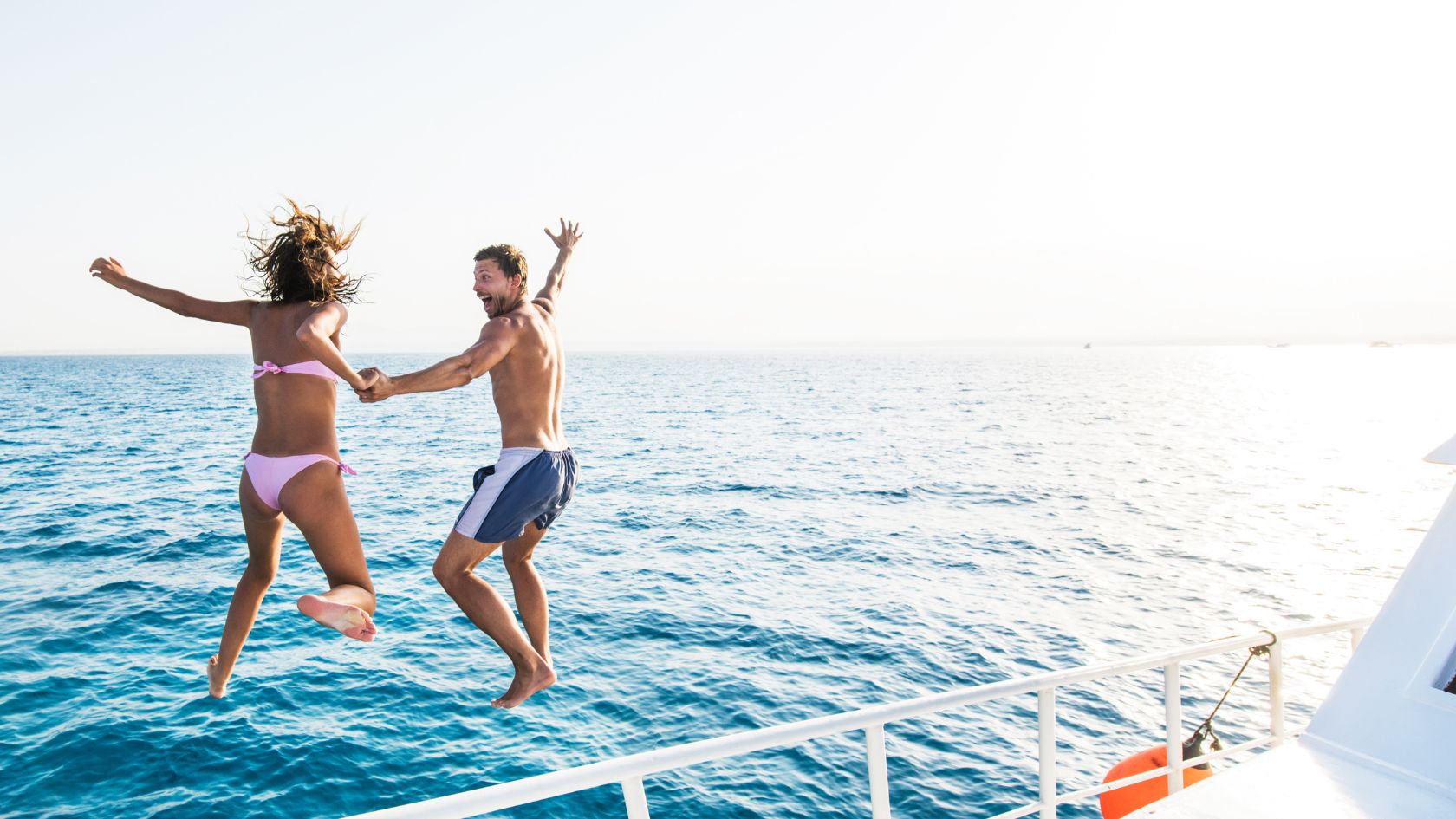 Questions to Ask Yourself When Buying a Boat
Narrowing down your choices to the right boat isn't an exact science. But to get started, here are some questions to ask yourself that'll help guide you in your search.
What do you want to do?
The biggest question to ask yourself is what you actually want to use your boat for. A deck boat used for evening cruises along the lakefront is a very different beast from trawlers designed for long-term live-aboard adventures.
Luckily, you don't necessarily have to pick just one use. Many of the most popular types of boats, like pontoons and jet boats, can be used for many different purposes. Other types of vessels, like cigarette boats and yachts, are a bit more shoehorned into specific functions.
But again, that all goes back to what you're looking for in a boat. The clearer you are on what you want to do, the better your chances of narrowing down on the best choice.
Here are some common reasons people give when buying a boat. Go through this list and see how many apply to you:
Racing

Fishing

Cruising

Watersports

Marine camping

Travel to new areas

Getting away from it all

Long-term living situation

Spending time with friends and family

Impressing new business partners and clients
Where do you want to go?
Along with the activities you're looking to do with your boat, another big consideration is where you want to take it. This will help guide your choice of boat size, too.
If you'll be doing any offshore travel, you'll want a larger boat that's able to handle rougher weather conditions and larger waves while still being able to quickly zip from place to place through the swells. You don't want to be five miles off of the California coast in your party pontoon when a surprise storm rolls in.
Similarly, if you'll be navigating tight waterways while pulling into your favorite dockside cafe, you'll want a smaller boat size with nimble maneuvering ability. Smaller boats are also easier to travel with if you'll be going to different lakes and waterways around the country or dry-docking your boat frequently for storage.
How much money do you have to spend upfront?
Each of the different types of boats has its own range of upfront costs. Very specialized boats, like yachts and sailboats, can be very expensive, even if you buy them used. You can also upgrade them with an infinite amount of features, which means that even very simple boats can end up costing more than you'd think.
If you're looking for more of an all-around multipurpose boat for family activities, though, we have good news: many of these boats are quite affordable. Jet boats, for example, can be used for fishing, cruising, watersports, and more, and you can find reasonably-priced models starting from $30,000, compared to $100,000 or more for a moderately-sized sailboat.
How much do you have to spend on upkeep?
The cost of the boat itself isn't the only thing you'll be spending money on. Some boats are more expensive to keep and maintain over the years, too.
Speedboats used for racing can be very expensive to insure compared with a small deck boat, for example. Boats that have more fleshed-out living quarters like a head and a galley also will cost more to maintain, and if you'll be keeping your boat at the marina you'll need to consider slip fees too.
Do you want to go on overnight adventures?
Having a boat means new travel opportunities are now available to you that aren't open to the average person. That's especially true if your boat has living quarters aboard because you can stay places that smaller boats can't get to, or have to leave once their excursion is done.
Some people choose to stay on their boats overnight for short trips. Other people even prefer living on a boat long-term, with all of the comforts of a shore-based home. Having onboard living spaces — even if rudimentary — allow you to fully enjoy the benefits of boat ownership.
However, there is a downside. Boats with cabins are generally bigger, and that means more upfront cost, more routine maintenance, more things that can go wrong, and therefore more ongoing expense and maintenance. But for many people, the benefits are the entire point of boat ownership.
How much experience do you have?
Your experience with boats will also be a key factor in how to choose the right boat. If you've never driven a boat before, buying a big yacht probably isn't the best place to start. Instead, smaller boats like jet boats and pontoons would be easier to start with while you're getting your sea legs.
What Types of Boats Are There?
Now that you've gotten as clear as possible on your ideal boating experience, you can look at the different types of boats with a more critical eye to see which will work best for you. Keep in mind there's a fair bit of crossover with some of these types of boats, but these will give you a good starting point for your research.
Pontoon Boats
Cost range: $15,000 – $175,000+
The ever-popular pontoon boats are many people's first introduction to the world of boating. It's understandable why, since pontoons are perfect for entertaining guests on calm cruises around the lake, going on short fishing excursions, or even for tubing and waterskiing, should your boat come with enough oomph. They're also one of the easier boats to learn how to drive, even if they're not quite as nimble as some of the other types of boats.
Jet Boats
Cost range: $10,000 – $500,000+
Unlike most motor-powered boats, jet boats don't actually have any propellers in the water. Instead, they rely on a pump-based jet system just like jetskis, with no components actually in the water itself. That gives you a few advantages: no need to worry about injuring people recreating in the water, quick acceleration for watersports, and zippy yet easy handling — especially for new boaters.
Center Console Boats
Cost range: $30,000 – $1,000,000+
The defining feature of center console boats is exactly as it sounds: a single, small cabin in the very center of the boat. This leaves the entire deck space open to move around on, and that's why they're especially popular as fishing vessels. They can come in a wide range of boat sizes and are adaptable to many different boating conditions.
Yachts
Cost range: $100,000 – $100,000,000+
"Yacht" or "motor yacht" is a pretty broad term, but when you're sorting out different types of boats it usually refers to larger, more luxurious boats with complete living and entertaining quarters on board. They may even have room for a crew, leaving you to enjoy hands-free cruising and comfort. Yachts are the boat of choice if you want to completely escape from the crowded daily grind and retreat to total privacy, but they come at a pretty high price. For some, that's the entire point as well.
Sailboats
Cost range: $50,000 – $1,000,000+
Sailboats need no introduction: even children know what they are, and why they're so much fun. While most cruising sailboats do have motors these days to handle calm-weather conditions and to navigate tight marina channels, they still rely on sail power and can circumnavigate the globe. There's something about wind pushing against a sail that's primal in nature and isn't adequately captured in any other way.
Trawlers
Cost range: $25,000 – $5,000,000+
No, we're not talking about commercial fishing trawlers, although that's where these types of boats got their start. Trawlers are more akin to a functional version of a yacht, featuring comfortable — and a bit more homelike — living quarters. Trawlers are made for adventurers who aren't as worried about impressing their next big client as they are about traveling the world and enjoying the sights along the way.
Next Steps: Finding Your Boat
It's OK if you're still not entirely decided on which boat is right for you yet. Take some time to browse boat listings in your area to see what's available, and spend time on some of the types of boats you're considering if you can.
When you're ready to start shopping, Boatzon is ready to help you take the next step. From finding the right boat for sale to lining up the right financing, Boatzon smoothes out the speed bumps in the process so you can get on the water faster.