Due to its pleasant summer weather, Michigan is often considered the undisputed epicenter of classic boating in the United States. You can't go more than six miles in any direction in Michigan before reaching a body of water. In fact, there are more than 62,000 lakes, and the state has 3,300 miles of freshwater coastline because of its location in the center of the Great Lakes.
Boating has a long history in the state. Michigan's boat builders made their mark on history by designing everything from the fast runabouts used by rumrunners during Prohibition to the landing boats used by the Allies in World War II. Later, Michigan entrepreneurs accomplished what Michigan's famous Henry Ford did with the Ford Model T and made boat ownership affordable for almost every American.
Here are several places you can go to be a part of the action: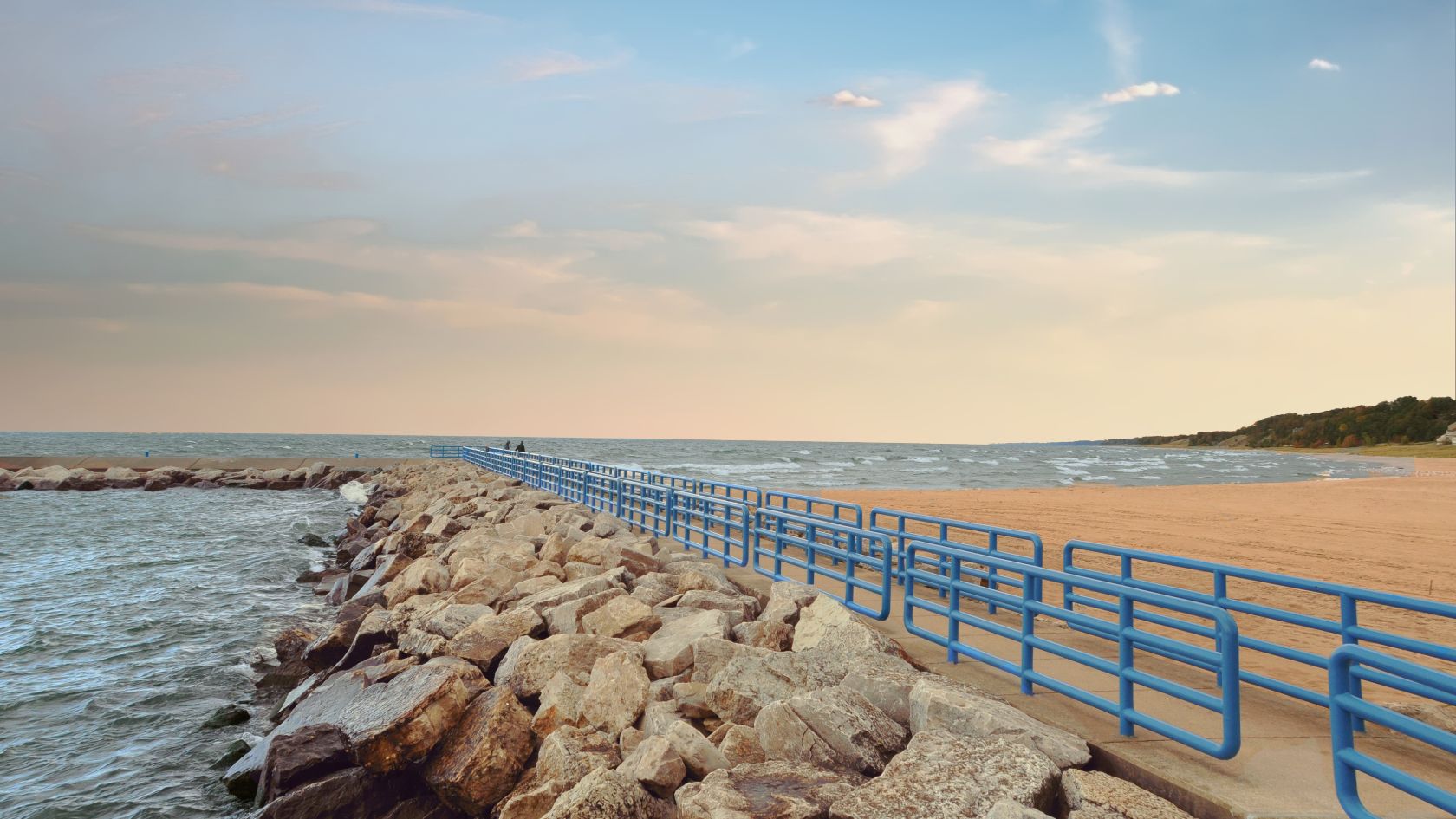 1. Grand Haven — Spring Lake and Lake Michigan
Lake Michigan boating dates back to the days when fur merchants frequented the waterways. This area also used to be a major hub for passenger ferries and cruise ships. Every year, Grand Haven celebrates the Coast Guard with a festival that includes ship excursions, concerts, parades, and more. It's also known as "Coast Guard City, USA." Wooden and historic boats are shown during annual events in the region, and boaters can choose between Spring Lake and Lake Michigan. Miles of beachfront, dunes, a boardwalk, and exceptionally clear waters can be found at both Lakes.
2. Topinabee — Mullett Lake
With its 26 square miles of surface area, Mullet Lake is known as the lake that has room for everyone, and powerboats pulling water skiers share this body of water with kayakers who like to paddle its numerous inlets. Popular Aloha State Park is located on the lake's shores. There are also marinas for fuel and snacks. The lake's Top of Michigan Marathon outboard race is the longest-running competition of its kind in the country, and it takes place in part of the Inland Waterway, a series of connected lakes and rivers that can take you all the way from one side of the state to the other.
3. Detroit — Lake St. Clair
The explorer who found the lake on August 12, 1679 — the feast day of Saint Claire of Assisi — also gave it its original full name: Saint Claire of Assisi Lake. The once-obscure shipping waterway between Lakes Erie and Huron and the Detroit River is now well-recognized as a major recreational boating destination. Due in part to its vastness (26 miles by 24 miles) and its various islands, channels, and bays, this lake is very popular, with 150,000 pleasure boats registered in the surrounding region. These boats comfortably coexist with the 3,000 freighters that travel through the shipping canal. Bassmasters Magazine ranked Lake St. Clair as the best bass fishing lake in the world in 2013.
4. Curtis — Big Manistique Lake
This 20,000-acre lake is the biggest in the Manistique chain of lakes, and its proximity to hundreds of miles of rivers and streams makes it a popular destination for fishing and boating. Whitefish, perch, and muskie all swim freely in this stocked lake. Boating is also a big draw in this roomy lake ringed by forests and classic lodges that make this area a great home base. Festivals include a Walleye Jamboree and the new 906 Festival, which features Upper Peninsula food, art, and entertainment. While you're there, try dining at Chamberlin's Ole Forest Inn on the waterfront.
5. Alden — Torch Lake
People who have seen Torch Lake on a day when its hue resembles the Caribbean in its rich, multi-tone color like to believe the rumor that National Geographic once called this lake the third most beautiful in the world. At 18 miles in length, Torch Lake is Michigan's largest inland lake and a favorite destination for sailors and motorboaters alike. The sandbars here are so well-known that Kid Rock dedicated a whole song to them. Torch is not only the clearest lake in the state, but is also the deepest. On the southeast bend of the lake, the picturesque town of Alden features one of the lake's few public beaches and is home to the well-known Dockside Restaurant. The colorful history of the area is reflected in the name of the lake, which comes from the torches used by local fishermen.
6. Charlevoix and Boyne City — Lake Charlevoix
A USA Today poll once named Lake Charlevoix the second most-beautiful lake in the country, a close second only to California's Lake Tahoe. One reader said it's "where the Gods swim," noting its clarity and the way the color is offset by the surrounding hillside greenery. It's also where the sailors, powerboaters, and even those with a predilection for Italian boat design head. The town plays host to a visit-worthy annual Venetian Festival highlighted by a candlelit boat parade. There are also several outfitters and marinas on the lake as well as a handful of the state's classic beach towns for shopping, great food, and art.
7. Battle Creek — Gull Lake
This clear, deep lake was discovered in the early days of Michigan tourism, partially due to its close proximity to large cities like Chicago. Cottages and homes dot the shoreline of this lake that's popular for both boating and scuba diving. Many artifacts that have found their way into this particularly clear lake offer interest to divers. Among these are a phone booth, a motorcycle, a swing set, railroad tracks, and two boats. The surface of the water is an attraction, too; there's a total surface area of more than 2,000 acres, and there's notable sport fishing for trout, salmon, smallmouth bass, smelt, and yellow perch. The city's yacht club offers sailboat racing on weekends.
8. Alpena — Grand Lake
Visit the Besser Museum in Alpena to check out wooden sailing vessels and motorized ones built in the local area to get an idea of the boating culture that extends through this region. You can also see historic wooden and new fiberglass and aluminum beauties at the Presque Isle Harbor Wooden Boat Show. Or, you can have your own boating adventures. Grand Lake is seven miles in length by one and a half miles wide, and it contains several islands. Ledges on the west shore rise 40 feet above lake level and contain unusual fossils.
9. Les Cheneaux Islands — Lake Huron
This group of 36 islands is popular with boaters because its waterways act as roadways. Lake Huron's gentle waves make this cluster of islands an ideal place to explore by boat. In August, the town holds an exhibition of vintage wooden boats, and the waterways are packed with them every day of the month; the brightly painted boathouses are destinations in their own right. In this region, the E.J. Mertaugh Boatworks was the first franchise where you could buy a Chris-Craft boat, or you could construct one yourself to take out on the water. The Great Lakes Boat Building School educates its students for free, making it the only institution of its kind in the Midwest.
10. Leland — Lake Leelanau
This lake's historical name translates to "narrow body of water," indicating Lake Leelanau has been a central feature of this region since early settlement, and it should be no wonder. Popular among boaters, the lake is divided into two sections, North and South Lake Leelanau. They're connected by the lake's Narrows and have a combined surface area of nearly 9,000 acres. The slower-traveled Narrows are popular for wildlife spotting, paddling, and a boat stop visit to Lake Leelanau's Boathouse Vineyards. There, you'll find award-winning wines with fun names like "License to Chill" and "Seas the Day." Or, take a trip to the grocery or nearby restaurants. Alternatively, you can boat to Leland, where the Lake Michigan harbor features the Fishtown area of repurposed shanties and numerous fishing charter options.