If you love watching fireworks, finding a place to be on 4th July is essential. On this date, many cities and towns near lakes, bays, or rivers will fire off eye-catching firework displays on the 4th of July.
If you are a boater and live in a community where the annual July 4th fireworks display is shot over the water, the best place to view the fireworks is on your boat. However, you should note that on the 4th of July boat riding, you must be aware and cautious, especially on crowded and smoky waters. No matter how careful you might be, you won't be boating alone. Some other fireworks watchers can ram into your boat.
Your safety and that of your boat should be a top priority. So if you are taking your boat for fireworks watching on 4th July, the following tips will be helpful.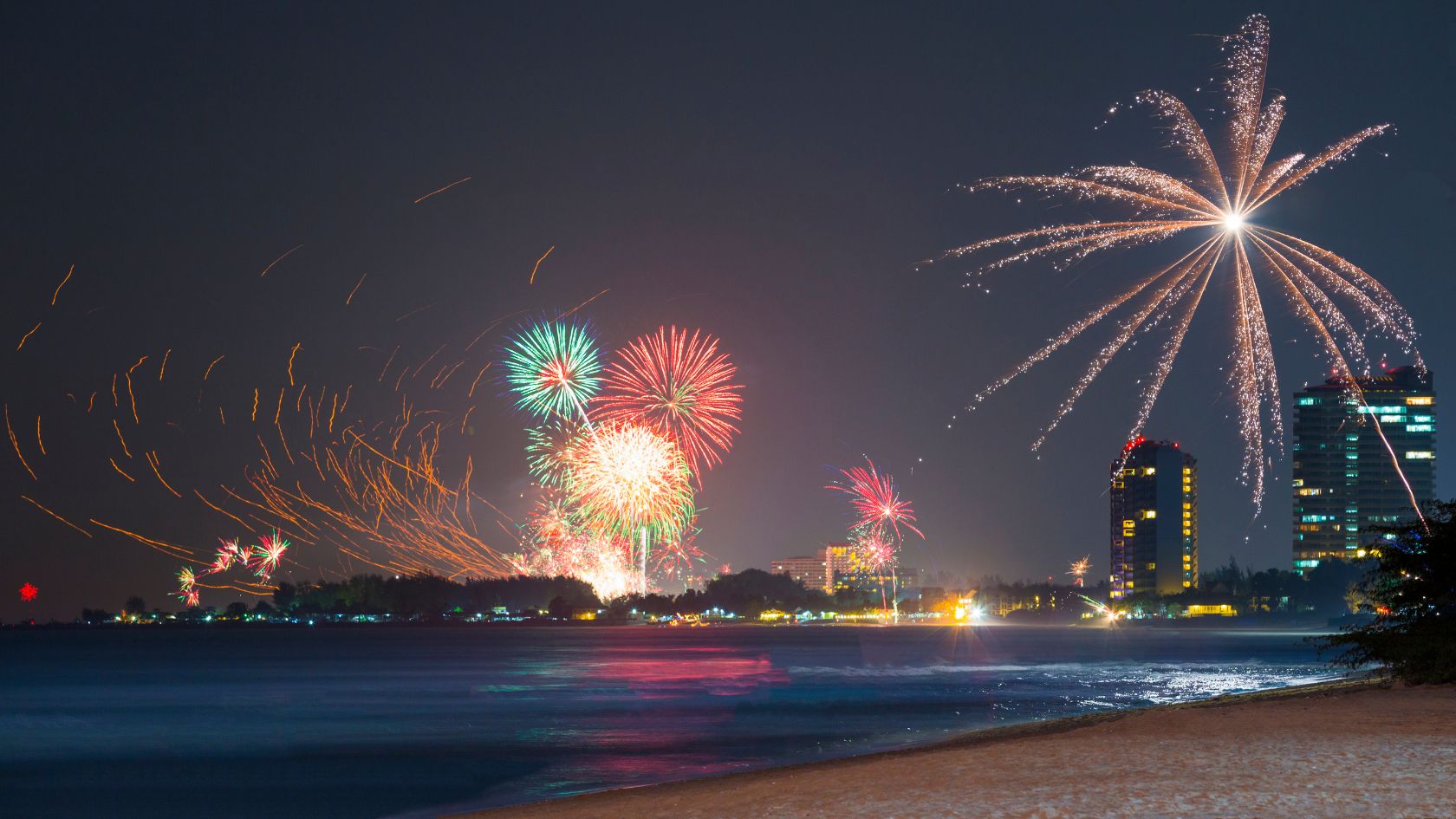 File Your Float Plan
Before you start boating, ensure you file your float plan, including your name and the names of those you will have on board, the name or model of your boat, and the emergency contact of all the people you will have on board. You can also include your expected departure, destination, and return time. Let your dockmaster have the float plan. You could as well leave it with someone you trust on the shore.
A floating plan is necessary because you never know what may happen in the water. That's why all the information you provide should be accurate. Explain to the members of your team why this is necessary.
Stay Sober
July 4th is a big celebration in the US, and the excitement may lead many people to drink a few bottles. Staying sober is prudent if you are riding in a boat while watching the fireworks. Boat riding while drunk is as dangerous as drunk driving.
Alcohol or other drugs cause brain impairment, leading to misjudgments and poor coordination. Besides, you can't enjoy the spectacular view of fireworks if you are drunk. But if you have to drink, take a few bottles and have a sober skipper in charge of the boat. The skipper will ride the boat and return its passengers, including you, safely to the shore. However, it would help if you did not carry alcohol onto the boat.
All Passengers Should Wear Life Jackets
Life jackets can save a life. Ensure you have enough of them for everyone on board; they should wear them before you start sailing. You can choose the inflatable or the traditional life jacket; either will serve you well. Note that the waters will be overcrowded, and the chances of collisions may be high.
Navigating at night will be challenging because the smoke will come from the fireworks. In a collision, some people you have on board can fall into the water, necessitating life jackets.
Note that boating at night in a crowded area is as dangerous as riding a boat in bad weather, like when it is foggy. The watchers must wear life jackets over other clothing to be effective. If you must borrow life jackets, only borrow from a trusted and reliable supplier/loaner.
Fuel Up
Before setting out into the water, ensure your boat's fuel tank is full. You can also have some extra fuel on board. Most fuel docks are closed at night, so you might need help finding a place to refuel after the fireworks. A word of caution -If you have some fuel on board, keep it in a safe place, far away from any potential source of fire.
Do Not Overload the Boat
Your boat can only carry a specific safe weight beyond which it can capsize. Do not let the excitement of watching the July 4th fireworks cloud your judgment. Do not use the number of seats in the boat to decide the number of people it can carry. Instead, look for the carrying capacity plate by the helm on the boat's transom. You can also get the boat's capacity from the builder's manual. However, if you have a few people to ride with, you don't need to worry much about checking the boat's capacity.
Familiarize Yourself With the Route
Your 4th of July boat adventure is fast approaching, and this is the right time to plan for your fireworks-watching adventure. Once you've decided which river, lake, or bay you will be watching, visit the place to chart the route; often, an anchor zone is approved by the local marine authority or the Coast Guard. You can talk to these officials early enough to ensure everything is clear on D-day.
Before you leave:
Confirm if the boat's chartplotter (GPS unit) is in good condition by logging into it.
Familiarize yourself with the local anchoring and boating regulations for your region.
Set the marker buoys along your chosen route to act as waypoints if navigating your boat back to the shore at night will be difficult.
Also, familiarize yourself with federal and state agency regulations on boating. These agencies may have restricted zones and boating areas in the waters. You can check the US Coast Guard's website for special rules and notices that affect boaters.
Navigate Cautiously
Although you are sober and have taken all security measures, you must still be cautious when boating in darkness. Note that some navigation marks you use during the day will be invisible in the dark. Ensure you reach your fireworks viewpoint early enough using your GPS to find it. As you ride the boat, be on the lookout for other boaters. Other boaters may not be as careful as you are.
Observe the Rafting-Up Rules
If several boats are on your route, taking people to watch the July 4th fireworks, have your lines and fenders ready when approaching the raft-up. Also, inform your passengers that their bodies should remain inside the boat.
Remember not to light any fireworks inside the boat. Boat fireworks can cause an accident because they destabilize the vessel. Additionally, the fiberglass used to make the boat is a flammable material. Further, the boat engine has highly flammable fuel and can burst into flames in the presence of open flames or sparks. So, you have to leave all your fireworks at home.
Also, don't carry any flares. These items are used only in emergencies and are not intended to be used as fireworks. Not that flares burn faster than fireworks and are a potential source of danger. Furthermore, if you use a flare, the authorities will consider them false alarms that can cause you legal problems, and you may serve a jail term or be fined (or both). Note that making a false alarm is unlawful.
Check Your Lights
If you have never used your boat at night, checking your lights before using it is advisable. Ensure your anchor and running lights are in good condition. Remember to learn the rules of using the lights before setting off.
Between the revelry, camaraderie, and music, you may need to be more focused and not to forget to put your lights on as the showtime nears. You can ask your team members to remind you to put the anchor lights on when darkness sets in.
Confirm that you have packed all the safety gear into the boat. You should also bring along a portable spotlight and flashlights. The lights can help you keep a reasonable distance between your boat and those of other fireworks watchers.
After completion of the fireworks, don't rush to ride back to the shore. Instead, allow the smoke to clear and the heavy boat traffic to subside. Most boat accidents occur during the mad rush back to the shore. Of course, there will be delays at the marina entrance and boat ramps, so you can carry some snacks to keep you busy as you wait.
Carry a Fire Extinguisher
A fire extinguisher is among the items that you should always take advantage of on your boat. A fire extinguisher can come in handy when a fire breaks out in the boat or when some stray sparks from the fireworks find their way onto the boat. Before you set it out, ensure it is fully charged and test whether it is functioning well.
Also, watch out for stray sparks. Even if your boat is far from the shoreline launch zone or fireworks barge, wind may cause sparks to drift onto your boat. So it would be best to have your fire extinguisher ready in hand or nearby as you watch the fireworks to douse the sparks.
Leave Your Furry Friend at Home
No matter how much you love your dog, don't take him with you to watch fireworks on your boat. The animal can get frightened by the noises, excitement, and chaos when the event kicks in. If the condition worsens, the dog may try jumping into the water.
Fireworks provide a spectacular view at night, and thousands of people will come out to watch them on the 4th of July. If you plan to do the same, ensure the celebration ends safely for everyone. Following the 11 tips above is the surest way to guarantee this. You may need to bring along your camera to take amazing videos/photos of the fireworks.