It's safe to assume that when you hear the term "camping," the first things that come to mind may be tents, open starry skies, and perhaps hot dog roasts and s'mores. The term "glamping" (or "glamorous camping" — more on the plush side of the camping experience) is one that you also may be familiar with. But what about boat camping?
If you've been a boater for a while, you likely know that some boats have quarters below decks for sleeping, while other boats allow you to dock on land that's close to campgrounds where you and other outdoor enthusiasts can pitch a tent for the night. But did you know there's a way to combine these two activities so you can actually spend the night in a tent on your boat?
Very simply, this is what's known as boat camping (also sometimes called "hanging on the hook" [meaning the anchor of your boat]), and it's recently become a very popular activity. What could be more relaxing than gently falling asleep to the soothing sounds of lapping waves and a sky that's filled with millions of stars?
Below, we'll take a look at some tips for boat camping that will help you get an idyllic night's rest aboard your personal watercraft and allow you to experience an evening and a morning that even land-based campers can't enjoy.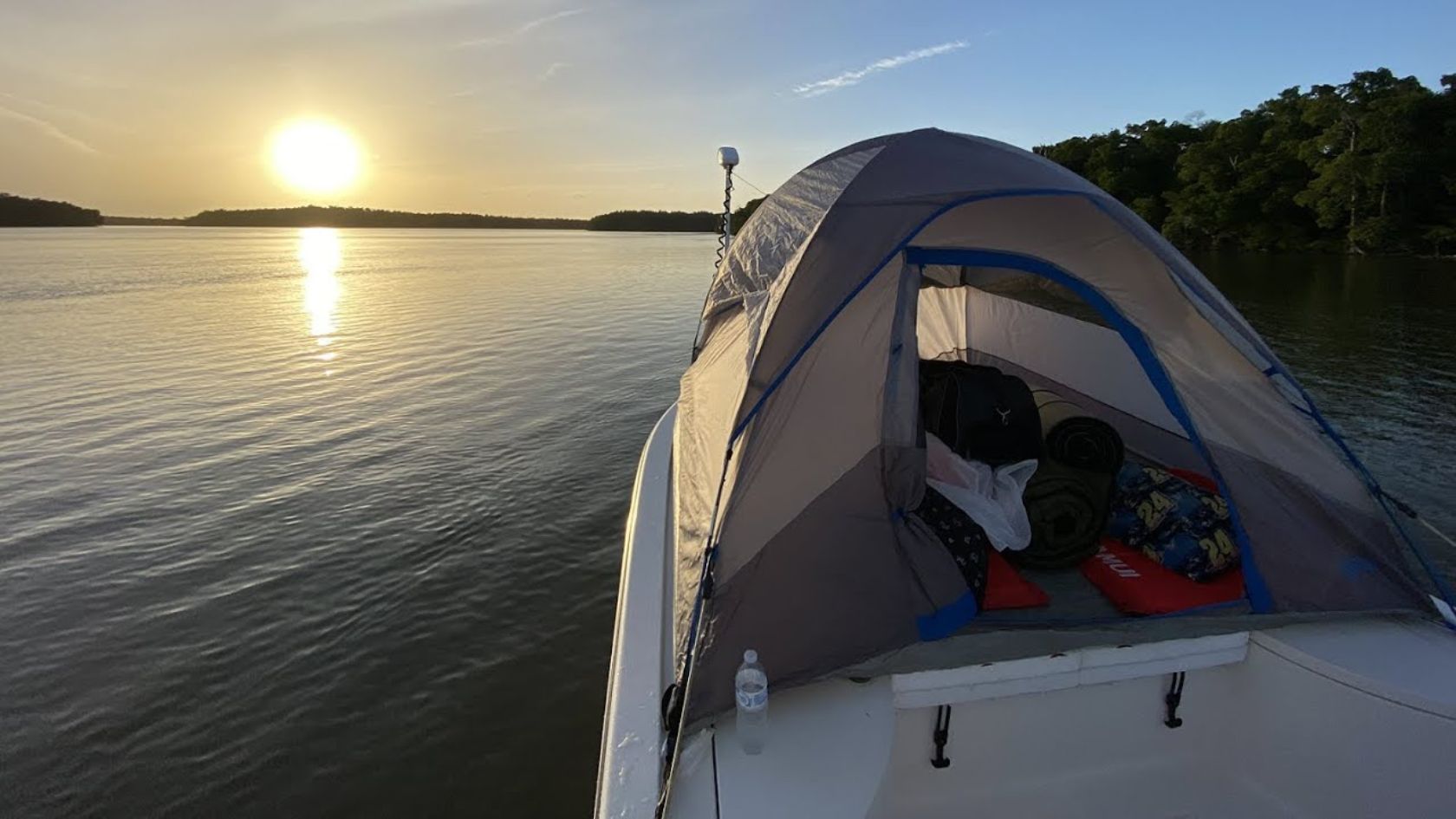 1. Choose the Right Tent and Sleeping Materials
The first thing to figure out about boat camping is your sleeping arrangements, starting with your tent. For tents, there's a wide variety of choices available, with a wide variety of prices. But any tent, if treated well, should be durable enough to last for many trips and seasons.
Tent size is determined by the number of people the tent can accommodate; if you need more space, you should go for a larger tent (or multiple tents). Also, consider the tent's weight, since there may be times when you may have to carry it long distances or up a steep incline.
Simple tents that can be assembled in a few minutes tend to be better than more complex ones. If you want something that can be set up in seconds, consider getting a pop-up tent.
Remember that you won't be able to hammer any stakes or poles into the ground on a boat, so the design of your tent needs to take this into account.
Also, bear in mind that it could rain at any time. Make sure you're protected from the elements with a rain fly or other cover. Typically, you get what you pay for, and less expensive tents are often less watertight.
Do you know what you want to sleep on and in? Two good choices are sleeping pads and air mattresses. In some instances, these can self-inflate and/or roll up into their own carrying case. In other instances, you might need to bring along a pump. The type of sleeping bag and blankets you bring should be determined by the low outdoor temperatures where you'll be. Don't forget pillows!
2. Decide on the Best Spot to Be
The allure of boat camping for various outdoor enthusiasts can vary greatly based on factors such as the prospective camping location and boat type. Those who consider themselves rugged individualists often have an easier time avoiding other people if they set up camp in less populated or trafficked areas.
The most important thing is knowing where you're going before you leave the pier. What you need to keep with you depends greatly on whether you'll be anchored out, beached on public land, or docked in a marina. So, the first step is to settle on a final destination.
Find someplace quiet, not right in the middle of a harbor. Secluded coves are often perfect. Having the area to yourself (or almost to yourself) is an added bonus.
Keep your boat at anchor away from other vessels and the land. This implies thinking about how much space there is for your boat to turn in all directions (360 degrees) in case the wind shifts. You don't want to wake up in the middle of the night to discover your boat beached or that you've drifted into your neighbor's boat.
Another element to consider is that it's not quite as convenient to go boat camping if your vessel doesn't have a toilet. While it's not inconceivable, you probably don't want to waste time worrying about where you (or your children) can go if nature calls. In this case, think about possible anchorages near public bathrooms, such as parks or beaches, and check with local state authorities to see what's allowed in these places; in particular, find out the policies regarding late or early access.
To learn more about how to get to some local waters located in your state, check out our list of U.S. National Parks that allow boating (look under the 'Boating' and 'Motorized Boating' headings) here.
3. Create a Gear Checklist
You probably already make a gear checklist before every boating excursion, at least in your head. However, there's a lot more to keep track of when camping on a boat, as you'll need both your standard boating equipment and the necessities for sleeping on the boat.
In addition, be sure to carry all the necessary safety equipment, including life jackets. Verify that the anchor you want to use is suitable both for your boat and the bottom of the waterway you'll be anchored on. If you're not sure what size anchor you need, go up at least one size. Ropes and boat bumpers can also be a good idea.
Between sunset and dawn, if your boat is longer than 23 feet, you're required to display a white light that can be seen from all directions. Doing so announces your moored position to nearby vessels. Even though vessels shorter than 23 feet are usually excluded from this obligation, it wouldn't hurt to bring along a white light you can shine. In any event, be sure to research local ordinances for any other safety rules and gear that's required.
Also, don't forget any gear you'll need for leisure activities, like inner tubes, wakeboards, fishing gear, etc. And if your boat camping trip is going to involve any cooking, be sure to bring the necessary gear for that (and try to prep as much food as you can at home), as well as utensils, napkins, paper towels, and paper plates. A drink cooler and reusable plastic containers can also come in handy.
4. Write Up a Supplies Checklist
First and foremost, there have to be enough food and beverages (including water) for the whole crew. But in addition to this, remember to bring along items like ice, sunblock, a first aid kit, bug repellent, and any other supplies you might need.
5. Plan in Advance
When camping on a boat, it's very important to have all of your gear ready and checked for functionality the day before you set sail. Now is the time to find out whether anything needs fixing or replacing — not when you're 20 miles away from shore or the closest bit of civilization. As you gather and pack your gear, confirm that items like flashlights and camping lanterns have working batteries and/or fuel.
6. Give a Float Plan to Someone You Trust
Every time you go boating, you should let a trusted person know your float plan (a brief summary of your expected whereabouts and times, so a friend or family knows roughly where you should be in case you don't return to your dock on time).
The importance of this cannot be overstated when boat camping. If your trip turns into a genuine holiday, you could be away for many days. If you find yourself in a position where you need help, it's crucial that someone knows where you are and roughly when you'll be returning.
At a minimum, a float plan should include:
• A description of your boat (This should include the type of boat, make, color, size, size of the engine, and its vehicle identification number [VIN]. If you towed the boat to its departure point using a vehicle, include the vehicle's location and license plate number.)
• The total number of people that will be aboard, along with their names, ages, and any disabilities or medical conditions they may have
• Your destination, itinerary, and the route you'll be taking to get there (including the launch ramp or marina used as your starting point)
• Your contact information (including your cellphone number, email, home address, and any social media handles that can be used to get in touch with you) and the same information for all members of your party
• The timeframe of your trip with approximate dates and times, including for your return
7. Charge Your Gadgets
Even though most new boats have USB charging ports, it's still a good idea to make sure your electronics, like cell phones and rechargeable flashlights, are fully charged before you set sail. Be aware that some boats' charging ports only work while the boat is running, which could be a major inconvenience if you were camping on your boat for the day and, say, realized your phone was dead in the middle of the night.
8. Follow a Pre-Departure Checklist Before Leaving
Having a well-functioning watercraft is essential to a successful boat camping excursion. That's why it's important to do some fundamental checks on your boat's maintenance. These may vary depending on the camping boats being used, but it's important to double-check that:
• The boat's gas tank is full
• The boat's batteries are charged
• The essentials like the boat's plumbing and electricity are working properly
9. Fill the Fresh Water Tank and Pump the Holding Tank
It's always a good idea to fill the fresh water tank and pump out the holding tank if your boat has either of these.
10. Strategically Pack the Boat
Space is usually at a premium on boats; how you pack your boat is crucial for a successful boat camping trip, since you may literally be hauling enough supplies for a whole family.
Think about how you're carrying everything. The most frequently used items should be stored in the most convenient locations. In order to keep the boat's trim and stability as optimal as possible, heavy items should be stored as low and as near to the boat's center as possible.
You should also be aware of the precise amount of weight you're adding to the vessel. Check the boat's capacity plate to see how much total weight it can hold, and make sure you're not going over the limit. Ensure the bow doesn't rise too much when you apply power, as this could prevent the boat from properly getting onto plane.
11. Let Go of the Ropes, and Have Fun!
Are you all set for what could be a very memorable trip? Have a great time while you're boat camping, and remember that life is better on a boat!