There is a common misconception that all fishing is the same regardless of the water where it is conducted.  Saltwaterfishing is different from freshwater fishing and flyfishing.  The term "saltwater fishing" refers to an attempt to catch fish in the ocean or nearby water containing salt.
Whether you are fishing below a pier, on a boat or a kayak in saltwater, you have the potential to bring home a massive haul with the right strategy.  Print out this saltwater fishing guide including saltwater fishing tips and you'll understand how to fish in saltwater.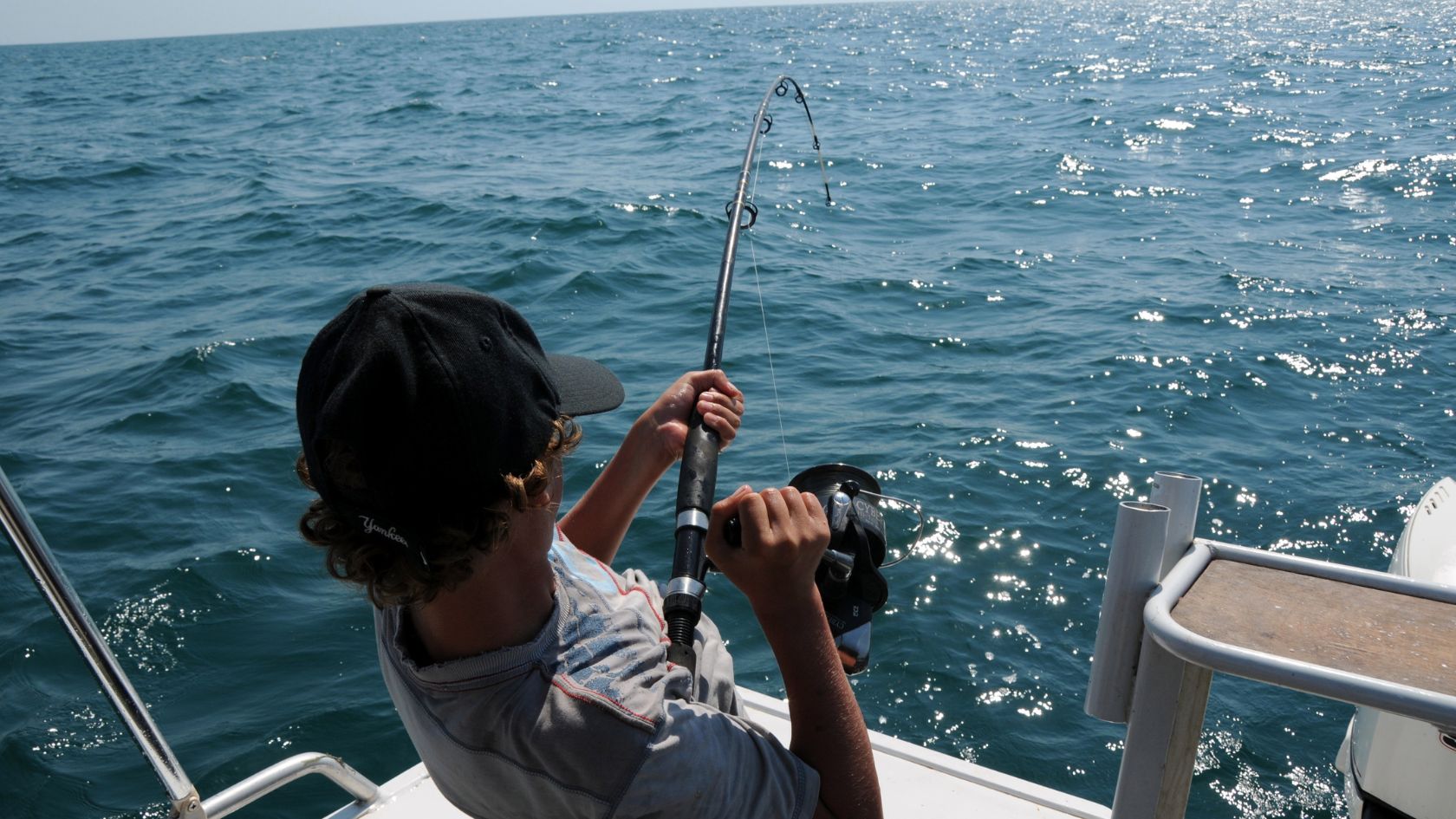 Saltwater Fishing Types
Saltwater fishing destinations are varied. Some fish in saltwater from beach sand. Others take cover from the sun below a pier for saltwater fishing. Some fishermen have the means to venture out into the ocean with a boat, canoe or kayak.
Surf fishing refers to fishing along the shore of a beach or wading into the water for easier access to fish. Contrary to popular belief, it is possible to catch the vast majority of saltwater fish without venturing deep into the ocean. Surf fishing is optimal for newbies while more experienced fishermen often prefer game fishing in the deep sea.
If you choose to surf fish in saltwater, you'll need a rod between a dozen and 15 feet in length complete with expansive line guides. Use a sizable spinning reel designed for saltwater with the rod along with 25 pound test line that won't break when you've got a massive haul on the hook.
The best surf fishing saltwater bait is shrimp and squid. Though shrimp might be plucked right off the hook, it will draw attention from most fish. If you prefer bait that holds strong yet might not attract as many varieties of fish, opt for squid or even mullet.
Flats Fishing and Fishing in the Backwaters
Are you up for a battle with a tarpon or other challenging fish? If so, flats fishing or backwater inshore fishing on a kayak or boat will prove quite enjoyable. Aside from tarpon, inshore saltwater fishing also provides an opportunity to catch trout and flounder.
Venture out for some backwater fishing with a fishing rod between 6 and 7 feet, add a baitcaster/spinner reel along with 15 pound line and you'll cast in full confidence.
Be selective when selecting bait for flats fishing and backwater fishing. Gold metal spoons and plastic jigs are ideal.
Fishing From a Pier
Though pier fishing isn't as exciting as fishing on a boat, it is still enjoyable, especially with a friend or family member. In particular, pier saltwater fishing is ideal for new fishermen. The best part about pier fishing is you don't have to worry about the randomness of the weather as is necessary on a boat. Nor do you need an abundance of gear.
Ask around town to learn about the tides by your targeted fishing pier to get a sense of what time is optimal to catch the most fish. Bring along a heavy or medium action spinning fishing rod that is 6-9 feet. Moreover, a test line of 20 pounds will be necessary. Don't forget to toss a hoop style net into the back of your truck to facilitate fish retrieval after bites. Though it might be possible to reel in a fish from a pier after getting it on the line, such an attempt might backfire with the line breaking and the fish getting away.
The best saltwater pier fishing bait is that of the live variety. Examples of saltwater pier fishing bait include worms, squid and shrimp.
Deep Sea Saltwater Fishing
If you have fishing experience or are an adrenaline junky, turn your attention to deep sea fishing. You'll need patience, know-how and strong line to win battles with big game fish in the deep sea. However, if you are new to fishing, you can still have a blast deep sea fishing with the assistance of a saltwater fishing guide. Bring along a couple offshore fishing rods with 6-7 foot medium action, 20 pound test line and a sturdy baitcaster reel. Those who want to cast their line all the way to the bottom of the sea will require a 50 pound line.
Deep sea fishing requires the use of specialized bait. Examples of bait used for deep sea saltwater fishing include jigs designed specifically for bottom fishing, herring and chopped squid.
Remain on alert when fishing the deep seas. Be mindful of changes in the weather and return back to the dock when harsh weather is on the way. Be sure to go over the details of navigation charts with a local fishing expert prior to heading out for deep sea fishing expeditions. Above all, don't forget to bring along a VHF radio and GPS for safety's sake.
Fishing at the Bay
A bay is a body of water along the coast that links to a larger body of water. Position yourself by shallows and reefs at bays, cast your line and you'll likely catch at least a couple fish. However, you'll need a heavy action rod that is 7 feet, a baitcaster/spin style reel and a monofaliment line of 20 pounds. In terms of bait, the most successful bay fishermen use gold metal spoons, shrimp, worms and bucktail jigs.
Saltwater Fishing Tips Every Fisherman Should Know
The most important thing you can do prior to heading out for a fishing expedition is to ask local fishermen about their experience fishing in saltwater. Ask anglers, bait and tackle shop owners/employees and other locals about their experiences with local saltwater fishing, take mental notes and follow their advice.
If you are new to saltwater fishing, get a saltwater fishing license. Begin by attempting to catch redfish or trout from the shoreline or a boat designed for use on shallow water. You can gradually work your way up to deep sea fishing where you attempt to catch big game. If you use live bait, conceal it in a livewell or a bucket with a cover.
Be mindful of the water depth when choosing a lure. Fish see well when swimming along the surface of the water. Choose your lure colors accordingly and you'll maximize your catch.
Your scent and voice volume also matter. If you use sunscreen or recently fueled up your tank, you'll carry that scent with you, potentially making it difficult to catch fish as the scent will linger on lures. Use wet wipes or soap to eliminate the scent and you'll catch that many more fish.
Though it is tempting to fish near a shipwreck or sizable reefs, doing so is a mistake. Dreaded junk fish tend to congregate in such spaces. Instead of fishing near wrecks and massive reefs in the summer, venture to areas with lower profiles for a larger haul.