When you own a boat, it's crucial to select a safe place to store your craft between trips and during the winter. You can find a wide variety of storage facilities that offer different levels of security, convenience and protection from the elements. There are also affordable ways to create your own boat storage area. Read on to discover all of the best options.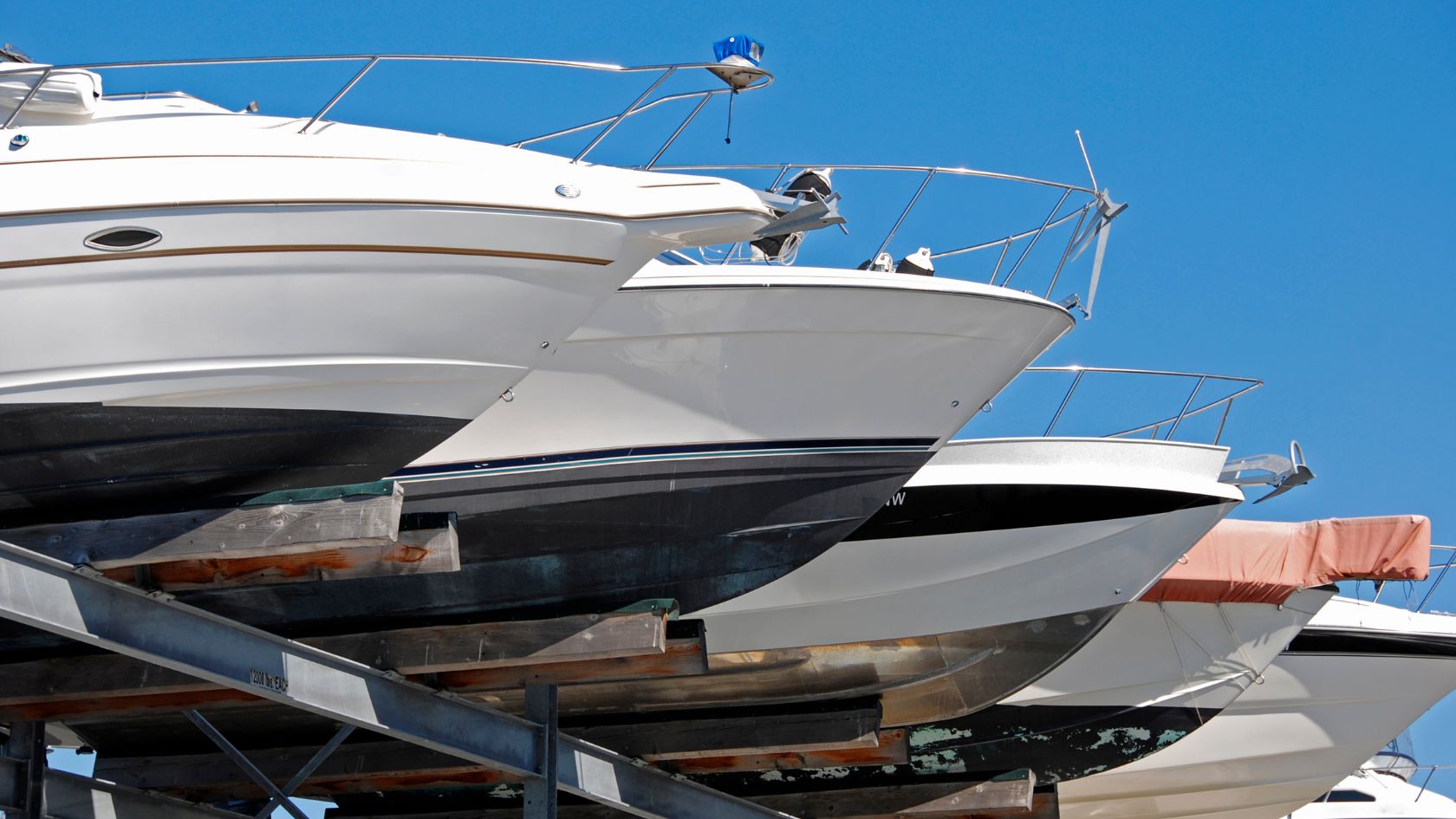 Outdoor Storage
If you store a vessel outside, it won't have the best protection against sunlight, pests, severe weather, thieves or vandals. You may need to spend money on marine shrink-wrap. Nevertheless, outdoor storage has some important advantages. It generally costs less, provides convenient access to your boat and accommodates vessels of any size.
At Home
Driveways and lawns offer the least expensive storage solution for many boaters. However, numerous homeowners' associations and landlords don't allow residents to keep vessels on their properties. Some cities also prohibit outdoor storage in residential areas. For instance, a newspaper reported that Port Richey, Florida forbids locals from keeping boats in their driveways or front yards. This rule doesn't apply to rear or side lawns.
If you store watercraft outdoors, you can use marine shrink-wrap to keep insects and precipitation at bay. A downside of this product is that it could promote mold growth. Fabric covers provide a more economical alternative and may prevent mold. A fence with a locked gate could safeguard your boat from criminals.
Trailers
Should you leave your vessel on a trailer while storing it outdoors? This common approach has a few pros and cons. It offers the convenience of not having to remove your craft from a trailer. You can start and finish the boating season with greater ease. However, this convenience could also benefit thieves. The trailer fully exposes your boat to harsh weather conditions as well.
If you're searching for trailer alternatives to use outdoors, look at adjustable stands and custom-built cradles. They're designed to prevent hull distortion while preserving proper engine/shaft alignment. These units must be set up and used properly to prevent damage. Adjustable jack stands typically take up less space than cradles, and the same stand can hold different boats.
Using a Lift
Do you have a waterfront home with a dock? If so, consider adding a lift. It will hold your vessel above the water, protecting the hull from ice, barnacles, waves and salt. Installation costs approximately $1,000 to $15,000. Prices vary significantly because some boats require much larger lifts than others.
Outdoor Parking
Many storage facilities and marinas provide outdoor storage areas for boaters who don't have space at home. They're usually paved and offer better security than the average driveway. Some of these businesses charge less to store boats on trailers. When evaluating a facility, check for protective features like surveillance cameras, tall fences and gated access.
Wet Storage
Marinas offer wet slip storage for those who prefer not to remove their vessels from the water. It's comparatively expensive and costs the same or slightly more than indoor dry-stack storage. Some boaters appreciate the convenience of not having to move their crafts to storage facilities. Many marinas use agitators to prevent water from freezing around the boats.
Still, this option is somewhat risky. Wet storage leaves vessels vulnerable to severe weather throughout the year. It's wise to visit and inspect your boat regularly. Long-term exposure to water promotes osmotic blisters in fiberglass, potentially leading to expensive repair projects. Harmful barnacles can accumulate on surfaces left in contact with seawater. Another potential problem is that ice may damage boats if an agitator fails.
Covered Storage
If you're looking for an affordable compromise between indoor and outdoor storage, think about keeping your vessel in a covered outdoor area. These facilities lack solid walls but have roofs, so they offer some protection from weather and ultraviolet rays. Unfortunately, birds and rodents can still find their way into a covered area. Particularly large boats might not fit under the roof.
You're more likely to find this option at self-storage facilities than marinas. Some parts of the nation don't have any businesses that offer covered boat storage. If you can find it in your locale, this service will probably cost less than enclosed storage but more than open-air parking spaces. Covered facilities generally provide decent security. However, they do little to shield boats from sub-freezing temperatures.
If you have enough land, you might benefit from a convenient alternative that's less expensive in the long run. Consider purchasing a carport and using it to cover your craft. It frequently costs under $2,000 to buy a carport that accommodates a relatively small boat and trailer. This lightweight structure may also look better than a vessel stored out in the open.
Indoor Storage
The best way to safeguard a boat from thieves, rain, snow, extreme temperatures and sunlight is to keep it indoors. A building will shield it from corrosive bird droppings as well. However, indoor options tend to cost more. They can also promote mold growth if storage buildings are poorly maintained or lack ventilation.
At Home
Keeping your boat at home could save hundreds or thousands of dollars each year. Your basement may supply enough space for a kayak or canoe. You might even fit a boat in your closet if you have a small inflatable. Otherwise, you'll probably need to buy, build or rent a separate indoor space.
You'd likely spend over $20,000 to build a new garage, but it's a great storage option if you already have one. A barn or large shed will work just as well if it has wide doors. You can maximize convenience by equipping a building with interior lights and automatic doors, things that the typical self-storage unit lacks. Most garages have electrical outlets; this makes it easier to maintain and repair your craft. You can also add heat if desired.
Garage Rentals
If you don't own any suitable outbuildings, you could rent a garage or shed from a nearby individual. This option sometimes costs less than using a self-storage facility, and you may not have to travel as far. However, access hours might be limited. Check for rental listings on Spacer or Neighbor.com. You may also find outdoor spaces on these websites.
Containers
When you need to store a relatively small boat, consider buying or renting a shipping container. They usually cost $1,800 to $8,900. Most units measure eight feet wide and 20 or 40 feet long. If you need a ceiling taller than 8.5 feet, you'll have to pay a bit more for a "high cube" container.
Storage Units
Self-storage lockers exist almost everywhere, making them one of the most common indoor options. Some personal watercraft and small boats fit in 10-by-15 foot lockers, but many boaters will need 10-by-20′ or larger units. Suitable lockers often cost $100 to $300 per month. Climate control can help protect sensitive electronics for about $35 extra.
Dry Stack
Marinas offer dry stack storage in regions where boating is popular. They use forklifts to place boats on indoor racks. This option costs about two to three times as much as dry outdoor storage. It maximizes security and protection from harsh weather. Some buildings also feature fire sprinkler systems. A downside is that you can't access your vessel without prior notice and may need to pay a fee each time you use it.
Winterization
With most storage options, you'll need to winterize your boat. After cleaning the interior and exterior, we recommend that you nearly fill the fuel tank and use a stabilizer. We also urge boaters to change their oil, drain the engine block, add marine antifreeze and remove the battery. Remember to charge a stored battery monthly. You can benefit from draining and replacing the gear lubricant as well.
So, what's the best way to store your craft? There's no simple answer. It really depends on your location, climate, boat size, budget and how often you go boating. You'll have to compare the specific options available in your area. Personal priorities may also influence your choice. To some extent, you need to choose between convenience, saving money and protecting your boat to the fullest extent.