More and more often, hurricanes are striking the shores of the United States, from Texas to Key West to the U.S. Virgin Islands. Strong winds, heavy rain, high seas, and even tornadoes can accompany a hurricane. For natural disasters like these, preparation is key, and this applies to boaters too.
Anyone who goes out to sea knows that preparedness for storms is essential. But when unusually bad weather strikes your dock, what should you do? The following tips are some ways to keep your boat safe during a hurricane or tropical storm.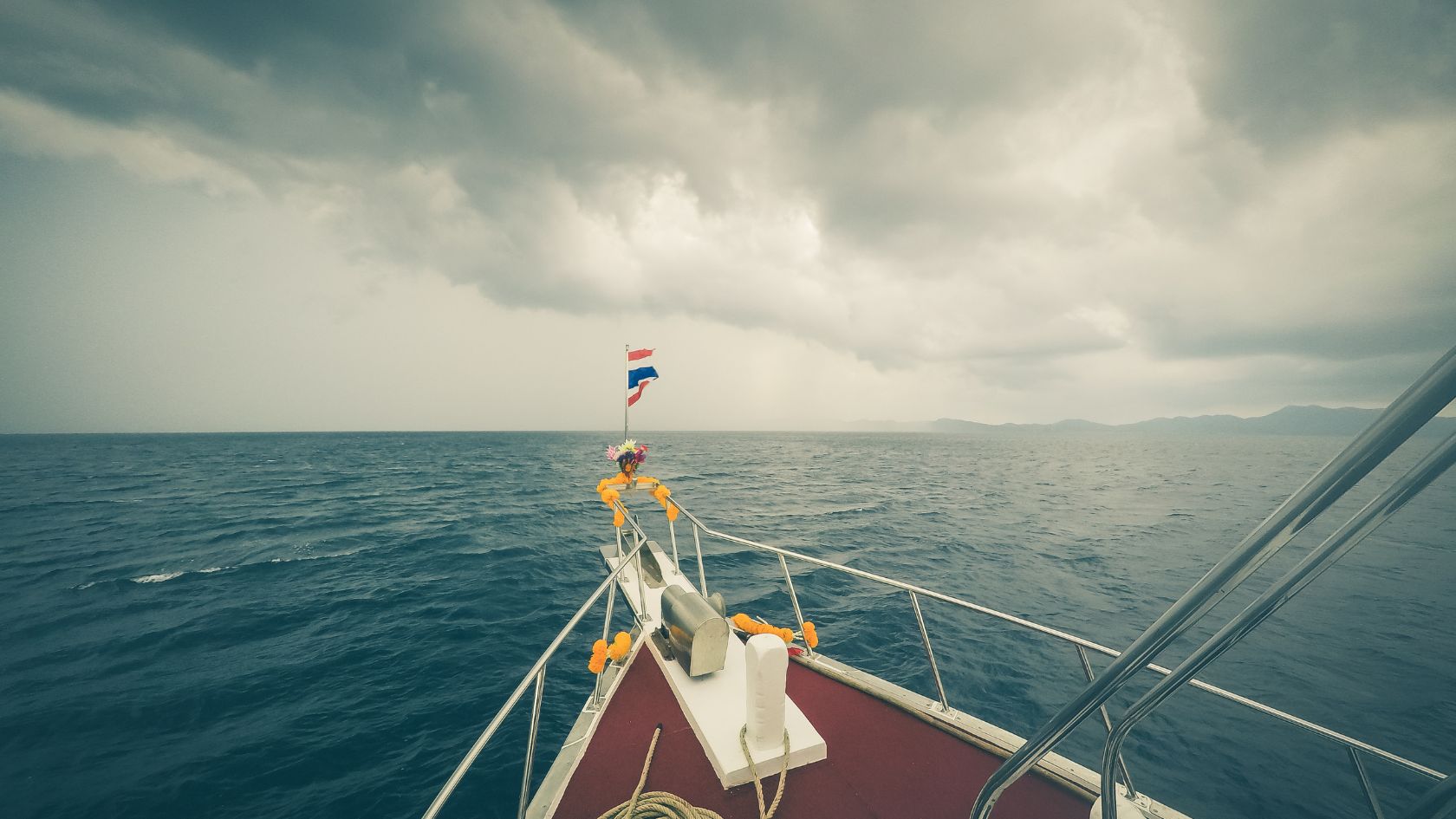 Preparing for an Evacuation Is Critical
Get ready for hurricane season. Make a plan that takes into account yourself, your loved ones, and any pets you may have aboard. Make your plans well ahead of time, before any hurricane warnings are issued.
Storm-watching is an important part of the preparation process. If your boat is docked at a marina, inquire with the harbormaster about storm strategies that are in place.
In the event of a hurricane or tropical storm, consider one of the following two courses of action:
Option 1: Haul your boat away from the water and park it in your driveway or at a nearby storage facility, well away from the coastline. Use chocks and wheel docks to keep it safely secured on its trailer.
Option 2: If time is of the essence, simply secure your boat in the water as best as possible.
Both options for protecting your boat against a storm are outlined more completely below; these are just the most basic steps, whether you choose Option 1 or Option 2.
Boaters' Insurance Against Hurricanes
Hurricanes can leave a collection of boats in their wake, strewn up and down a coast. Make sure you have hurricane insurance coverage for your vessel. Such insurance is common in places that are prone to hurricanes. If you're not sure if you're covered, it's best to double-check.
Storm Surges
Storm surges are often disregarded in the context of disaster preparation. But as a boat attempts to float, docks and dock lines can wind up deep underwater, inflicting extensive damage. Bear in mind that swells of up to 10 feet are common during hurricanes.
Put Potential Sails Away
Don't leave anything affixed that could be used as a sail on your boat, ever. That includes bimini tops for pontoons, dodgers for powerboats, and sails for sailboats.
Look Out for Downpours
Remember that hurricanes bring a lot of water with them; rainfall can average from six to 12 inches in 24 hours.
Boat cockpits are seldom totally waterproof, and bilge pumps rarely work quickly. Heavy rains are known to sink boats. Therefore, your best bet is to bring your vessel indoors, perhaps to a garage.
Swell Sizes
Huge waves are propelled by the force of the ocean. Three- to six-foot waves are possible even in calm harbors and marinas. Fortunately, hurricanes are still fairly rare events, although they're gradually becoming more common.
Tornadoes Are a Secondary Danger
Tornadoes can be spawned by hurricanes. While you can't stop a tornado from forming, you can get your boat out of the water, onto a trailer, and away from the coastline before one hits land. If you're out in the water and a tornado (often in the form of a waterspout) is approaching, try to get your boat back to the shore.
Option 1: Finding Shelter
If you do need to move your boat, where do you take it? A marina close by? A garage? The garage of a friend? In the event of a storm surge or a tornado, a trailer may be able to take your boat to shelter. Always consider the time it will take to get your boat ready, load it up, and perhaps deal with traffic.
Maintaining a Trailer
Make sure your trailer is maintained well. Flat tires and rusted wheel bearings are the worst things to discover when it comes time to evade a hurricane. Make sure your boat and trailer both receive regular maintenance.
If your trailer needs to be left outside, secure it to trees. Or, leave your boat on it, and use chocks and wheel docks as well as an auger to anchor it during a storm. Any related objects that could be blown away or lost in the wind should be taken indoors.
If It's Possible, Put Your Boat in a Garage
If you go home with your boat, park it in a garage and not your car. Why? The weight of your boat is usually less than that of your car. Because of its elevated position, your boat could be damaged or destroyed if it's left outside in heavy winds.
Use Jack Stands That Are Reinforced
Jacked-up boats need the same amount of preparation as those on trailers. Strengthen jack stands with chains and plywood if necessary. Invest in either a keel jack stand or a standard flat jack stand that supports the hull of your boat.
Stay Away From Lifts and Davits
Damage claims for boats being blown off hoists or lift cradles flood insurance companies constantly. Boats also fall when lifts collapse. These are just two reasons to avoid such mechanisms.
Option 2: Anchoring or Mooring as a Backup Plan
If it's not an option to take your boat to a safer location, you'll have to stay out at sea. In cases like this, you need to know how to moor and anchor your boat in preparation for a storm. For you to be successful, knowledge is key.
Move to a Hurricane Hole
If possible, navigate to smaller rivers, canals, and other bodies of water. These "hurricane holes" provide a less stormy/windy alternative to crowded harbors and marinas. When you drop anchor, make sure your boat's bow is pointing into the wind.
Extended Docking Lines
Boats on docks can take a serious beating from a hurricane. If your boat gets away, it could end up stranded somewhere. When you're at a fixed dock in a storm, you should, at a minimum, use longer dock lines.
According to the BoatUS Hurricane Catastrophe Team, dock lines of the proper length could prevent up to 50 percent of boat damage from storms. Therefore, try to make your lines larger and longer, and arrange them sensibly.
If you want to dock your boat in a hurricane-prone area, you should practice tying it up and come up with a strategy for managing the lines in a storm. You can minimize your boat's movement and avoid encountering the dock or pilings via the use of numerous dock lines. More slip space also improves the likelihood that a boat will survive a hurricane.
A "Spider Web" Approach Using Multiple Lines and Anchors
Keep your boat safe in a hurricane hole by using a spider's web of lines around it. In this method, a boat is tied to both sides of a canal or other waterway using multiple lines. Another method that works well is to secure a boat in mangroves.
Always use multiple lines and anchors in wider canals or waterways; stay away from open water.
Can Your Mooring Hold Firm?
Hurricanes are known to drag moorings. Therefore, you should always ask: will your mooring hold firm?
Get your mooring chain checked periodically, and learn how to properly attach it to the mooring ball. Talk to your harbormaster if you have any questions; these individuals are always knowledgeable resources.
According to the results of a study, helix moorings and anchors are the most reliable types in a hurricane.
Be Safe
Hurricanes aren't easy phenomena to deal with. Taking your boat inland is generally preferable, but this may not always be feasible or practical, in which case, navigating to a more protected location may be the next best option.
Never try to ride out a storm inside a boat. You're not the captain of the Titanic; there's no reason to sacrifice your safety to save your vessel.
Instead, prepare your boat, family, and pets for any impending hurricane or tropical storm. After you've made preparations, move inland. The bottom line is: your boat is replaceable, while no one in your family is.