It should come as no surprise that the state of Florida is a popular haven for boating aficionados in the United States. According to recent data, the Sunshine State has more registered boats than any other in the U.S.. In fact, with more than 1 million vessels registered, Florida has actually been dubbed the boating capital of the world by the Florida Fish and Wildlife Conservation Commission (FWC). 
Florida offers a wide variety of motorized and non-motorized boating activities in addition to beautiful beaches, luxury shopping, exceptional golf courses, and a rich history. If you're currently located in a more northern state, Florida also offers you something else: warm weather year-round.
As the colder seasons approach, you may be faced with the decision to winterize and store your vessel until spring or move it to warmer waters. If the latter piques your interest, here's a look at the best boating destinations Florida has to offer and why you might consider each one this winter.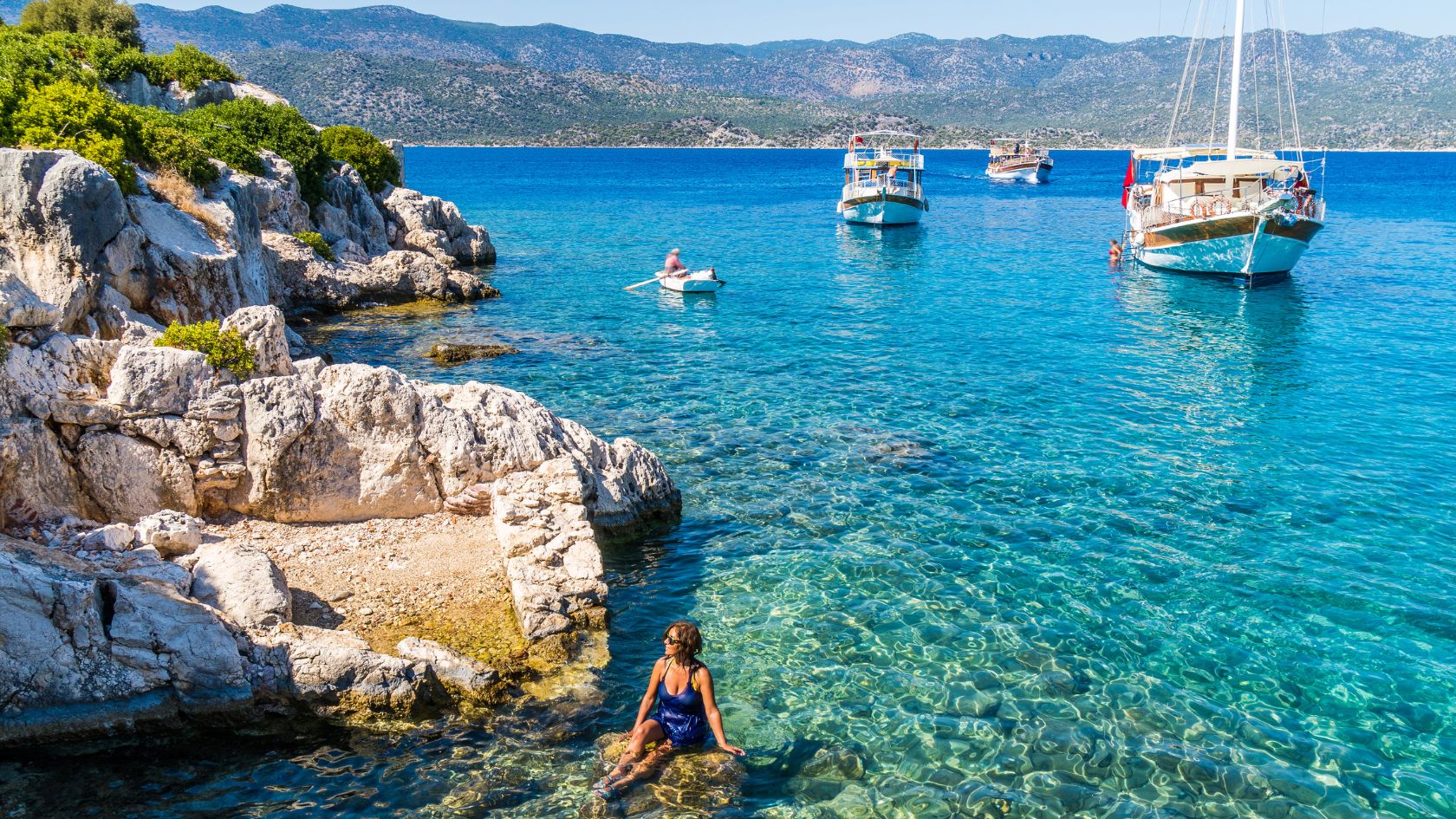 The Best Boating Destinations in Florida
Put simply, you'd be hard-pressed to find an oceanside destination in Florida that isn't great for boating. With warm Gulf waters, world-reknowned fishing, and some of the most beautiful beaches you can visit without a passport, Florida has plenty to offer. Here are the top nine cities that we think every boat owner should at least consider — if not just visit — when seeking out a new boating destination or finding somewhere to tie up for the winter.
9. Jupiter (Palm Beach)
Located along the Intracoastal Waterway, Jupiter, Florida is both a beautiful and safe place for its over-the-water visitors. It offers quick access to the Gulf Stream and northern Bahamas, many sandbars and quaint beaches, and is also home to the infamous Jupiter Lighthouse. This area is especially popular among scuba divers, as the Gulf Stream provides a rich underwater sea life and warm currents.
8. Stuart
Though perhaps unofficial, Stuart, Florida is well-known as the sailfish capital of the world. So if reeling in one of these speedy, speared fish is on your list, you might want to pull up anchor and head to this southeastern, inshore city.
Located just south of Port Saint Lucie, Stuart is a relatively small city by population alone. It is tucked among two large coves along the Intracoastal Waterway, and offers incredible boating and diving along with its fishing. In addition to its sailfishing, Stuart is also known for its snook. It serves as a great jumping-off point for boaters looking to head to the Bahamas, as well.
7. Naples (particularly Marco Island)
With its hundreds of miles of coastline, Naples, Florida is a popular area for boaters, beachgoers, and sun worshippers around the world. There are many islands in the area, and island-hopping by boat is a popular pastime.
Marco Island is one very popular island destination with its high-end resorts, parks, breathtaking beaches, and clear waters. The Naples Pier offers exceptional fishing for snook, tarpon, redfish, and groupers, and the Everglades give you and your companions a close look at nature in this southernmost peninsula state.
6. Charlotte Harbor
If you're looking for a more private and quiet anchorage location, Charlotte Harbor could be perfect for you. This oft-forgotten area is laden with historic islands and rich sea life, boasting world renowned fishing as well as pristine beaches. If you're a fan of tarpon fishing, Boca Granda (on the island of Gasparilla) should absolutely be on your radar.
Charlotte Harbor is the second-largest estuary in Florida but has somehow remained tucked away from the hustle and bustle of many of the state's beach towns. It's older, quiet islands offer beauty and tranquility to new boaters and old salt alike.
5. Tampa Bay
According to the FWC, Pinellas County has the second-highest number of registered boats in the state of Florida. So if you're looking for a popular spot with plenty to see and do, Tampa Bay might be worth a look.
4. Jacksonville
Jacksonville, the largest city by area in the U.S., also boasts more shoreline than any other city in Florida. This gives you plenty of room to spread out, explore, and enjoy your boating experience the way you like.
Here, boaters have many different options when it comes to being out on the water.
They can spend their time in the Atlantic Ocean, fishing or visiting the more than 30 reefs in the area.

They can venture into the Intracoastal Waterway, which offers 40 miles' worth of inland channel for fishing, boating, and sailing.

They can even stay in the calmer inland waters of the St. Johns River, which follows Jacksonville along more than 50 miles of coastline.

The Fort George Inlet is another option, offering sandbars and and gorgeous beaches before opening up into the Atlantic.
Along those miles of Jacksonville shoreline are many marinas and docks to choose from, whether you're planning to tie up for lunch or stay for the winter.
There are a few special rules to note regarding anchoring in the Jacksonville area (such as not anchoring within 150 feet of a marina or boatramp, not anchoring within 100 feet of public mooring field boundaries, and not anchoring in the path of boat traffic), but otherwise, the world is your boating oyster in this expansive seaside city.
3. Miami (Ft. Lauderdale)
There are more boats registered in Miami-Dade County than anywhere else in Florida, and by a pretty wide margin. And that shouldn't come as much of a surprise: Miami offers many water activities in addition to a nightlife that never sleeps, high-end dining, beautiful white sand beaches, and prime boat fishing. On top of that, Miami has been home to both the Miami International Boat Show and the Miami Yacht Show for many years, drawing in boating audiences from around the world.
Of course, Miami might not be right for you if you're looking for a quiet fishing hole or deserted beaches. It should definitely stay on the list, though, if you are into exquisite views, temperate weather, and a slew of both private and city-run marinas from which to choose.
2. St. Augustine
Boat ramps and marinas abound in beautiful St. Augustine, Florida, a historical beachside town on the northeastern side of the state, just south of Jacksonville. St. Augustine, which was founded in 1565 by Spanish explorers, is our nation's oldest continuously inhabited, European-established settlement. This rich and lengthy history is evident when walking along the bricked streets of the city, too, which are lined by courtyards, centuries-old buildings, and other historical sites.
While St. Augustine has plenty to offer its land-based visitors, boaters will also find refuge here. There are many marinas to choose from, whether you want something near the St. Augustine inlet (giving you quick access to offshore) or prefer to dock further inland. Slips in this area can be tricky to come by, though, and may even mean hopping on a waitlist for months at a time.
Though, if you love the area enough, you might even consider purchasing property here… which can often include a shallow or deep water slip!
1. The Keys
Once a well-kept secret, the Florida Keys have become a growing hot spot in recent years for tourists, fishermen, scuba divers, and boaters alike. This oasis, located at the southernmost tip of the Sunshine State, offers access to coral reefs, mangroves, shipwrecks, offshore and shallow water fishing, sandbars, crystal clear water, open-air markets, and even an exciting nightlife.
This 120-mile long chain of islands plays host to a number of tournaments each year, which draw in thousands of boats and fishermen. The Keys — which reach down to the southernmost tip of the country — are also home to the only living coral reef in the continental United States. With islands like Key Largo, Marathon, Islamorada, and Key West to choose from, you'll never run out of things to see, do, and explore in the Keys. Nearly all of the Keys have marinas for docking your vessel, whether you want to stay for a day or the whole month.
Bottom Line
Whether you're looking to just get away for the winter or planning your next fishing or diving trip, Florida should probably be at the top of your list if you want to stay in the continental U.S.. Without the hassle of international waters, passports, and language barriers, Florida offers a warm, sunny, and boating-friendly environment for all.
There are many Florida marinas and beachside towns to choose from, whether you plan to just visit or are looking to make a permanent move. And if you're considering Florida because you're thinking about buying a boat, let the experts at Boatzon help you get the boat loan you need.